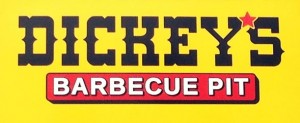 Dickey's Barbecue Pit has been around since 1941.  For over 70 years, they have been offering a selection of signature meats, home style sides and a tangy barbecue sauce.  They season the meats and slow cook them on-site at each restaurant.
Menu:
Dickey's Barbecue offers a great selection of Barbecue Sandwiches, barbecue meat plates (including beef brisket, pulled pork, Virginia Style Ham, BBQ chicken breast, turkey breast, polish sausage, cheddar sausage and pork ribs).
Their sides include barbecue baked beans, creamy coleslaw, potato salad, jalapeno bans, green beans with bacon (hmmmmm bacon), baked potato casserole, ceasar salad, chips, mac and cheese, fried onion tanglers, fried okra, and waffle fries
They also offer salads and bakers including a giant stuffed baker (with or without meat), a pork and tangler tater, beef and cheese baker, a garden salad, smokehouse salad, and a chicken Caesar salad.
Prices:
Prices at Dickey's Barbecue range from $3.99 for a BBQ Sandwich to $11.99 for a Rib Plate.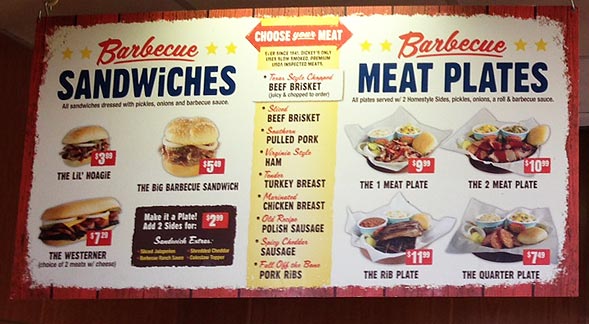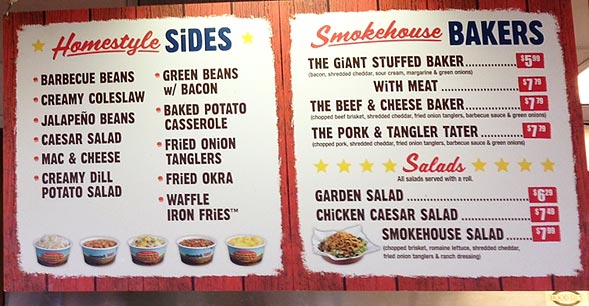 Review:
I went to Dickey's Barbecue in Orem, Utah to get food for my family.  We ordered a selection of sandwiches and sides, including Big Barbecue Sandwiches (brisket and pulled pork).  I also purchased a Westerner with spicy cheddar sausage and brisket along with various sides, including the beans, mac & cheese, waffle iron fries, baked potato casserole, creamy coleslaw and the barbecue beans.
While I was there, they provided me samples of the meat.  It was great to sample the pork, the brisket and the sausage before I ordered.  In the restaurant, they had several things that were pretty cool.  There was free ice cream and free pickles and they had the ability to get free drinks if you signed up for their text message list.
The food was pretty good for fast food BBQ.  I enjoyed the sandwiches a lot.  They provided the sauce in separate containers so if you ordered your food to go the bread didn't get soggy…pretty smart.
The sides were good as well.  I really enjoyed the slaw and the baked potato casserole.  The mac & cheese and beans and bacon were pretty good as well.  My family said that the waffle fries were delicious.  The barbecue beans were nothing special, but not bad.
Website Information:
Dickeys has a full website at the URL: http://www.dickeys.com.  The website gives you the ability to find the Dickey's Barbecue location nearest to you and check out their catering menu.
Location and Hours of Operation:
Dickey's Barbecue is a BBQ Chain restaurant.  The store that I went to was located in Orem, Utah at the address 1385 South State.  They are open daily at that location from 11:00am to 9:00pm.  They have other locations in the following states:
Arkansas
Arizona
California
Colorado
Connecticut
Florida
Georgia
Iowa
Idaho
Illinois
Indiana
Kansas
Kentucky
Louisiana
Maryland
Maine
Michigan
Minnesota
Missouri
Mississippi
Montana
North Carolina
North Dakota
Nebraska
New Mexico
Nevada
New York
Ohio
Oklahoma
Pennsylvania
South Carolina
Texas
Utah
Virginia
Washington
Wisconsin
West Virgina
Wyoming
The restaurant had the ability to order your food online and they provide catering as well.
Overall, I enjoyed my meal at Dickey's Barbecue and I would go again.  I have got to try their ribs next visit.