Spinach-Bacon Mac & Cheese Recipe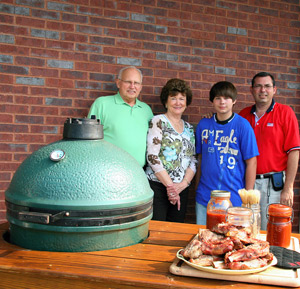 When we are invited to an outdoor event you can be assured that I will bring the macaroni and cheese. I do not have one favorite recipe but am partial to the seven-cheese mac and cheese that I make. I like it because it makes ALOT and is quite tasty. I like to bring it to work because I have a staff of 70 and for some reason, I never have to bring home leftovers.
I have been experimenting recently with a spinach & bacon recipe that I really like and am considering putting it in my cookbook. I thought I would let the readers try it and give me some feedback. Please provide comments below and let me know what you like best.
EVERYDAY INGREDIENTS
1 box medium-sized macaroni shells
1(10-ounce package) fresh baby spinach leaves, lightly chopped
8 slices cooked bacon, chopped (I like big pieces)
2 Tablespoons all-purpose flour
3 cups milk
2 cups finely shredded Sharp Cheddar Cheese
1 cup finely shredded mozzarella cheese
1/2 cup grated Parmesan Cheese
Cayenne pepper for sprinkling
SIMPLE INSTRUCTIONS
STEP ONE: Assemble all ingredients and cooking utensils. Preheat oven to 350 degrees.
STEP TWO: Cook macaroni following package directions. Once drained, add lightly chopped spinach leaves
STEP THREE: Cook bacon in large skillet saving the bacon grease.
STEP FOUR: Add flour to drippings, cook and stir until bubbly.
STEP FIVE: Gradually stir in milk and bring to a boil, stirring until thickened. (3-5 minutes)
STEP SIX: Stir in 1 cup each of cheddar and mozzarella and stir until melted.
STEP SEVEN: Add bacon and macaroni, mix well.
STEP EIGHT: Spoon into 2-quart casserole dish and top with remaining cheeses. Sprinkle with cayenne pepper.
LAST STEP: Bake for 30 minutes and serve hot. ENJOY!
Michael Wright
http://www.athomewithmichael.com
Purchase Michael's best-selling book at http://www.athomewithmichael.com. Highly recommended by Amazon.com.
A picture of my dad, his girlfriend, my son Patrick and myself…around the family grill. The wife is camera shy.)