This is a popular chili recipe that has won or placed in many chili cookoffs at work, in my neighborhood, and at tailgate parties!
This recipe has been called the world's greatest best tasting chili from my daughter – I will cook for her any day!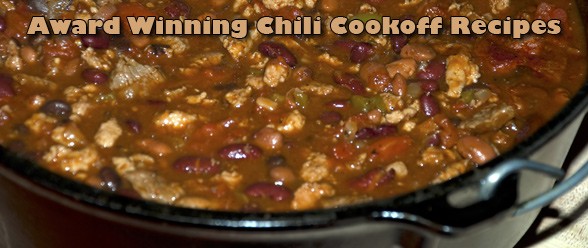 Award Winning Chili Cookoff Recipe
There are lots of variations available – listed below.
Ingredients:
1 pound lean ground beef (or use ground turkey for a lower fat version)
1 pound mild Italian sausage
1/2 pound bacon
1 small onion chopped fine – I like sweet onions
1 Red bell pepper chopped fine
1 Green bell pepper chopped fine
1 can (~15 ounces) kidney beans – drained
1 can (~15 ounces) black beans – drained
2 cans (14.5 ounce) chopped stewed tomatoes – Italian spiced
2 small cans tomato paste
1 1/2 cups water – you may want to add more while cooking depending on desired thickness
1/3 cup Heinz 57 Steak Sauce – some people prefer A1, I think 57 tastes better
1 package of chili seasoning mix
1 tsp crushed red pepper flakes
1 tsp ground cumin
1/2 tsp garlic salt
1/2 tsp black pepper
1 tsp salt – I like the sea salt my son brought me from France
3 cloves minced garlic
3 tablespoons chopped fresh cilantro
1 tablespoon of fresh parsley
Optional additions:
1/4 cup brown sugar (or some prefer honey or molasses) – some like it sweet – some like it hot!
1-2 diced carrots
1-2 stalks diced celery
1 small yellow summer squash chopped fine
1/4-1/2 teaspoon of cayenne pepper to spice things up a little
1/4 teaspoon of chili powder if you want it hot (or more to your taste)
Substitute Spicy V8 juice for the tomato paste for an interesting twist
Substitute 1 small can beef broth instead of the water
Directions
In a large skillet, cook bacon until just before it gets crisp.  Remove and set aside.
Cook the ground beef (or turkey) and sausage.  I like to cook it in the bacon grease because I love the taste of bacon!  Drain when browned and then add chili seasoning, cumin, garlic salt, pepper, and salt.  Mix and leave on warm heat.
While the ground beef and sausage is cooking, in a large pot, combine the vegetables (stewed tomatoes, red bell peppers, green bell peppers, onion, garlic – and the optional carrots, celery, and squash), liquids (tomato paste, tomato sauce, water, steak sauce) and the remaining spices (red pepper flakes) and cook until fresh vegetables are tender (the carrots take the longest to cook – make sure they are not crunchy).
Add the meat mixture, beans, cilantro, and parsley to the vegetables in the large pot.
Crumble (or cut) the bacon into small pieces and add to the mixture.
Cook for 20-30 mins at med-low heat to combine flavors.
Serving suggestions
Serve with fresh grated cheddar cheese on top
Serve with a spoonful of sour cream on top
Serve with chopped green onions on top
Serve with diced fresh tomatoes on top
Serve with warm cornbread (or jalapeno cheese cornbread if you feel creative)
Serve with corn tortilla chips – heated to get the restaurant feel
Serve with saltines
And finally, my favorite, serve with Frito corn chips
This recipe is as good or better the second day as the flavors will continue to mix during the evening.
Several times, I have cooked this the day before and then just reheated the mixture before dinner.  We often cook this as we get together over Halloween as we get together with family and friends.  Having a hot bowl of chili for the kids after they go out trick-or-treat'ing is the perfect thing to warm them up after they are finished.
This is also perfect for the local chili cook offs that happen in your community.  You can tailor the chili recipe to meet the type of cookoff you are entering.  For example, if it is at your local farmers market, you might add the optional vegetables.  If it is a tailgate cookoff, go a little heavier on the meats.  You get the idea.  This is a great award winning chili cookoff recipe.
Please leave your comments below with any other variations or serving suggestions.