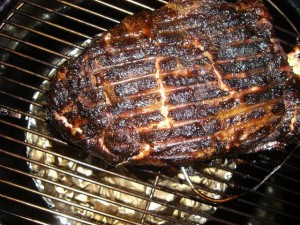 The weekend is fast approaching and I am starting to make plans for what goes on the grill. I was thinking about a Pork Butt – this time Carolina style. I wanted to see how different this is than the Boston Butt recipes that have been so good for so long.
Carolina Pork Barbecue

1 fresh pork butt, bone-in (this is the butt, or top portion, of the shoulder)
Kosher salt
Barbecue Sauce, recipe follows
Special Equipment: hickory, oak, and/or maple wood chunks or chips; smoker
Directions:
Add hickory, oak, and maple chunks or chips to your smoker. Refer to the directions for your smoker to determine the correct amount of chips for the meat and for lighting instructions. When the chips are ready, add the pork and smoke it for 2 to 2 1/2 hours at 250 degrees F. Remove the pork and wrap it in heavy-duty aluminum foil.
At this point, you can finish it in a conventional oven or leave it in the smoker for another 6-8 hours.
Here are the instructions for a conventional oven.
Preheat the oven to 225 degrees F.
Cook the pork for 6 to 8 hours or until the meat is tender and falls apart when the bone is removed.
Chop the pork coarsely and mix in salt and Barbecue Sauce, to taste.
Serve with more Barbecue Sauce on the side.
Carolina Barbecue Sauce Ingredients:
2 cups apple cider vinegar
2 tablespoons crushed red pepper
1/2 tablespoon chopped fresh garlic
1/2 tablespoon kosher salt
1 tablespoon freshly ground black pepper
Directions for cooking the Carolina BBQ Sauce:
In a medium saucepan, combine the vinegar, red pepper, garlic, and salt over high heat.
Bring to a boil and then reduce the heat to medium-high.
Boil for 15 to 20 minutes (stirring occasionally) and then remove from the heat.
Let cool then add the black pepper.
[ratings]
Recipe brought to you by The Tool Wizard