We attended an extended family reunion in Mount Pleasant, Utah. It is about 2 hours south of Salt Lake City in a very small farming community.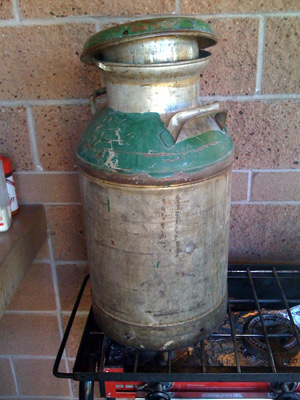 There were about 40-50 people there – including aunts and uncles and cousins that we didn't even know we had. Two of the popular events at the reunion was the Chinese Auction (ping me if you would like more information about that) and the other was dinner. It was a milk can dinner!
The milk cans (or cream cans) come in various sizes, the biggest being 10 1/2 gallons. That can is about 3 1/2 feet tall and about a foot in diameter.
There was enough room for Grandma to put in ~25 lbs of potatoes, carrots, onions, peppers, and several roasts. They spiced everything up nice, added some water and put it on a propane burner with the lid slightly cracked to allow the steam to escape and slow cooked it for several hours. You could smell it all over the yard and garden. When it was done, the roasts were so tender they fell apart with your fork and the vegetables were done – but not mushy.
It was so good! You ought to try a milk can dinner for your next big gathering. Sorry – I don't have a source for used milk cans…let me know if you do.  However, I did find a source for new cream cans.
---
I had a great contact from a lady in California who offered to provide Milk Can Dinner tips and tricks. She provided awesome information that I wanted to include in the post.
Please continue to post comments and suggestions on making the ultimate "Milk Can Supper".
---
I am what is known as a "dump cook". My Mother always said I'd be my happiest cooking for a thrashing crew and she was right. I heard about Milk Can Dinners years ago and had my first opportunity in April '09 to make my dream come true.
Our little club built a float for the Petaluma Butter and Eggs Days parade. We built the float on one of our members ranches so I took the opportunity to cook this dinner for everyone. IT WAS A SMASH HIT!
I first had a Milk Can Dinner (I prefer to call it Supper as it goes more toward the "Okie trend") on a motorcycle run in Kings County California several years ago.
Prior to that trip, I had purchased a 10 gal. milk can from a surplus store just for grins.It was aluminum and brand new and cost me a total of $10.00. It still had the Norwegian manufacturers documentation in it.
The group that put the "Supper" together on that motorcycle run turned out to all be children of the dust bowl travelers and let me tell you, the supper was great!
I have cooked it twice now and learn each time. I cooked this supper both times on a portable propane burner.
This is such a fun meal, good food and the men just hang around with the aromas and asks questions. It's fun to see the guys get so involved, it's almost primal. This last time, I served 50 and the cost was $102.00.
Here are some things you probably already know but I have been writing items down as I go.
This needs to be done when corn is in season
For a 10 Gal can: 2″ of liquid to start = 1 1/2 gal. I started with 4 cans of beer and then the rest of the 1 1/2 gal. liquid was water. The cabbage on the bottom of the can takes any "burn" that might happen. My guests wanted more cabbage and I had a total of 6 heads….quartered, four on the bottom and two on top.Next time I'll add more cabbage I guess!!! 🙂 see below
Break the corn cobs into halves for easier handling when turning out and for the guests use also
If you use small pre-packaged pre-peeled carrots they cook too fast and break down. I used 5 lbs of bulk carrots and could have used more. They were cut into approx. 5-6″ lengths
Pour off all the liquid (retain some) before you turn your prepared food into bowls. It not only keeps from splashing hot liquid but it's easier to separate the individual product into containers, all corn, all brats, all potatoes, etc. Also, food does not continue to cook when out of the hot liquid
Try and buy potatoes all the same size so they will cook evenly
I put in 50 brats and 2 large ham shanks (quartered). The ham shanks were plenty of seasoning so I didn't have to salt and pepper. Some people salt and pepper before they even taste the food anyway. I figured I'd let them do that but it didn't appear that too many did. The ham shanks were in demand and I may use more of them at a later time. As the brats are close to the top, I could spear one after 1 1/2 hours of cooking on the propane burner and determine if all was done and ready
I used a portable propane burner to cook my dinner on. I had all items at room temp. when I put them in the liquid in layers and had already turned the burner on medium high. My first one burned some of the cabbage so I didn't turn the burner completely up. I did start at 5:00 and turned the food out at about 6:45 when I was satisfied the brats were cooked.
My first dinner was supported by salads made in wooden buckets…I have inventive and precious friends.
My friend in Grand Prairie Texas wanted information on where to get a milk can so I found some on e-bay and sent that info to her. I'm keeping my information in a binder as I know this is going to come up again.
Let me know if you need a cook to help out at your next shindig! Strangers are just friends we haven't met! My apron is washed and ready to go………….
AG