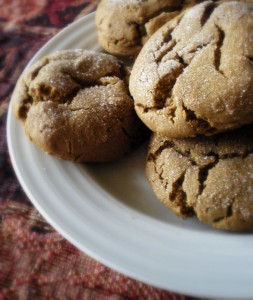 The Lincoln County Fair is going to be here the beginning on September and I am filling out my intent to participate in the pie and cake competition this year. Two years ago I participated in the canning competition and brought home 10 ribbons. This year I have entered my white chocolate keylime pie, molasses cookies, and banana nut bread. We have company coming over tonight to watch the Titan's pre-season game so I thought I'd make the cookies for dessert since everyone else is bringing a dish. Wish me luck at the contest and try this molasses cookie recipe. It makes 4 dozen so it is perfect for tailgating!
Michael's Molasses Cookies
Everyday Ingredients:
1 cup packed brown sugar
1/2 cup vegetable shortening
1/2 cup molasses
1 large egg
2 1/4 cups all-purpose flour
2 teaspoons baking soda
1 teaspoon ground cinnamon
1/2 teaspoon ground cloves
1/2 teaspoon ground ginger
1/4 teaspoon salt
1/2 cup water
1/4 cup granulated sugar
Cooking spray
Simple Instructions:
STEP ONE: Assemble all ingredients and cooking utensils. Preheat oven to 375 degrees.
STEP TWO: Combine brown sugar and shortening in a large bowl; beat with a mixer at medium speed until light and fluffy.
STEP THREE: Add molasses and egg; beat well.
STEP FOUR: Combine flour, baking soda, cinnamon, cloves, ginger and salt , stirring with a whisk.
STEP FIVE: Add flour mixture to sugar mixture; beat at low speed just until blended.
STEP SIX: Cover and freeze 1 hour.
STEP SEVEN: Place water in a small bowl.
STEP EIGHT: Place granulated sugar in another small bowl.
STEP NINE: Lightly coat hands with cooking spray and shape dough into 1-inch balls.
STEP TEN: Dip one side of each ball in water; dip wet side in sugar.
STEP ELEVEN: Place balls, sugar side up, 1 inch apart, on baking sheets coated with cooking spray. Bake at 375° for 8 minutes.
LAST STEP: Remove from pans; cool on wire racks and eat. Try to eat just one – especially when they are warm.
Michael Wright
http://www.athomewithmichael.com
Purchase Michael's best-selling book at http://www.athomewithmichael.com.
Highly recommended by Amazon.com