Submitted as part of the Women of the Grill Recipe Contest
Root Beer Grilled Brisket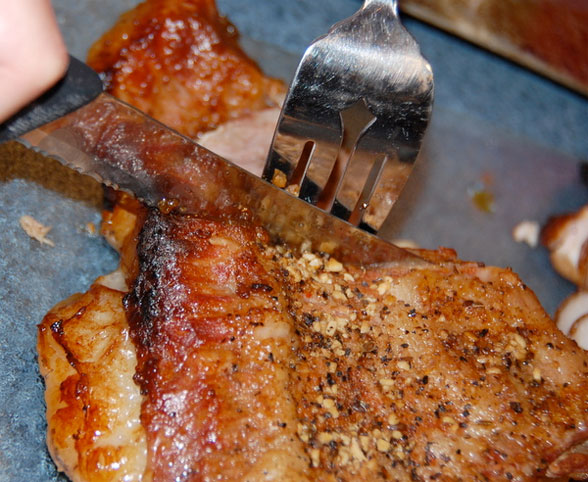 Submitted By:
Leah Beyer
Location:
Flat Rock, IN
Background:
Backyard griller. Promoter of meat. Lover of food. Grew up on a small, and when I say small I mean less than 20 cows, dairy in the midwest. Married a farmer. Have two kids who want to grow up and be farmers. I channel stress by cooking. I then am stressed out from all the mess I created. That's why God gave us wine and beer.
Recipe Name:
Root Beer Grilled Brisket
Background and Description:
Beef roasts and briskets are usually less expensive than steaks in the summer. So, this recipe allows you to enjoy the flavors from grilling with the meat that is less expensive. This recipe will convert the non-meat eaters to the carnivore side. Slightly spicy with a side of sweetness, this beef brisket will disappear quickly.
Ingredients:
The Meat:
– 1 brisket or sirloin roast




The Brine:
– 8 cups of water
– 1 T. sea salt
– 5-6 shakes of Tabasco
– 2 tsp. of Paprika
– 1 tsp cayenne pepper
– 1/2 cup brown sugar
– 1/4 apple cider vinegar

For the Grill:
– Montreal Steak Seasoning
– 1 cup root beer

Recipe Instructions:
Whisk brine ingredients till all is dissolved. Put meat into 2 gallon or larger ziploc bag. Pour brine over top. Refrigerate for at least 4 hours. I have left it in the fridge for up to 2 days. When you are ready to grill, get the meat out of the bag and dump brine. Cover both sides of the brisket with Montreal Steak Seasoning and place in disposable grill pan. Pour about 1 cup of root beer around meat.

Cover the pan with aluminum foil and place on the grill. Grill for one and half to two hours on 300 degrees. Check to make sure liquid remains in the pan. If you have smoke chips in your grill, you leave the foil off for the first 10 minutes to capture the smokey flavor. When you remove from the grill, take the hunk of meat out of the pan and let rest for at least 5 minutes. Slice to serve. Serve with your favorite BBQ sauce.

Recipe Summary:
A brine followed up with a root beer grill mate make this brisket irresistible.
Please rate this entry as a part of the Women of the Grill Recipe Contest