This is an incredible Cheeseburger infused with the robust flavors of hickory smoke, garlic, onions and chipotle chili. Topped with Colby-Jack cheese and rich, creamy slices of avocado. This is one of those wear a bib and hope your date doesn't mind type of burgers that just taste plain awesome!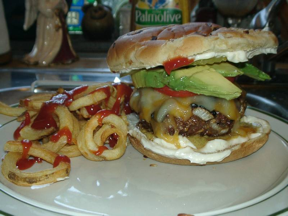 Ingredients:
1.5 lbs. lean hamburger
3 Tbs. Worcestershire Sauce
½ cup steak sauce
2 Tbs. steak seasoning
1 Tbs. coarse black pepper
½ cup Parmesan Cheese
3 Tbs. chopped garlic
1 Tbs. Chipotle chili powder
Colby-Jack cheese sliced
1 ripe avocado sliced
1 tomato sliced
Buns of choice
Condiments of choice
1 small sweet onion –chopped
Directions: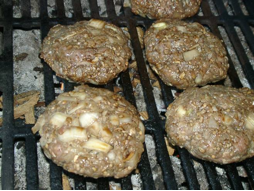 In a mixing bowl add together the hamburger, steak sauce, steak seasoning, pepper, onion, garlic, Worcestershire sauce, Parmesan cheese, chili powder and mix well forming 5 patties.
Preparing Grill:
Oil and preheat your grill to medium high heat (400 degrees).
Add your wet hickory chips the grill. (Note: you can add your hickory directly to the grill or you can use foil smoke packets. (Two handfuls wet chips and one dry, fold foil into a packet, poke holes in it with a fork and you're good to go.)
Put your burgers on a hot grill for 4-5 minutes and LEAVE IT ALONE, if you try to turn it before its ready it will stick to the grill and tear apart. It will flip easily when it is seared, do so and give it 2 or 3 minutes with the grill closed before you add your Chipotle salsa and cheese.
Spoon a good covering of the chipotle salsa on the burgers and add the cheese slices. Plate when the cheese is melted.
Build your burger and serve with your favorite side dishes
Enjoy,
Ken & Patti
Ken & Patti Fisher
Date Night Doins BBQ For 2
http://datenightdoins.com