I saw the coolest thing today when I was in the sporting goods store. I went in looking for some sort of platform to get my charcoal off the ground. I am a scoutmaster and am taking my scouts to scout camp next week and there are fire restrictions. This means no open fires, no charcoal briquettes on the ground, etc.
The Camp Boss told me that I have to be able to see underneath the platform holding the coals to be able to use charcoal briquettes. Wanting to set a good example to the scouts (and not wanting to be responsible to pay the bills for the forest service to put out a forest fire), I decided to adhere to the rules.
I found the perfect solution. I found a Volcano Stove. But not an ordinary Volcano Stove, I found a Volcano II Collapsible Stove. It has all the features of the Volcano Stove, but collapses into a 5″ ring. What a concept!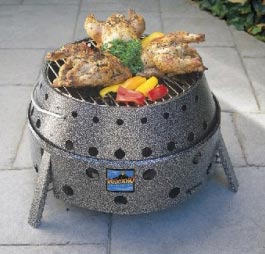 I had always wanted a Volcano Stove, but they were huge. I already own a Camp Chef 3 burner stove that is handy but heavy and hard to manage.
The Volcano II Collapsible Stove has some beautiful features. First of all it collapses down to 5″ (can you tell I love that feature?). That is so convenient for packing gear in and out of a campsite. The second feature that I really like is that the outside of the stove doesn't get hot while you cook. That is great for reducing injuries when cooking with small children running around (or scouts).