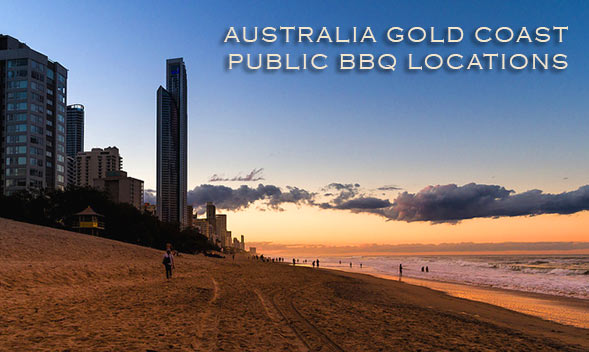 Barbeque in the great outdoors is the quintessential Australian experience.  Our stunning weather makes it easy to enjoy heading outside with family and friends to soak up the sun and feast on fresh produce, seafood and succulent Australian beef.
The sunny Gold Coast in Queensland offers the best weather of all.  Even in winter you can enjoy relaxing outside and cooking up a storm.
With hundreds of parks to choose from, all boasting free barbeque facilities and stunning scenery, we have picked out 10 of the best for your next visit to the Gold Coast.
1.     Pratten Park – Old Burleigh Road
This park is right on the foreshore of Broadbeach – one of the most beautiful sections of the entire Gold Coast and a stunning surf beach.  It also has one of the best playgrounds for kids that includes a pedal powered monorail and pirate ship and is fully shaded for those hot summer days.
2.     Pat Fagan Park – Marine Parade, Coolangatta
Pat Fagan Park is on the peninsula at Coolangatta Beach with sweeping views of the headland and Pacific Ocean.  There are lots of shady trees and a small playground, making it easy to keep an eye on the kids.  The breathtaking outlook also makes this a popular and romantic spot for weddings.
3.     Harley Park, Labrador
Just north of Southport is beautiful Harley Park.  Located right on the water, this section of the coast is sheltered from the breaking surf, making it a perfect swimming spot for the whole family.  The lagoon pool is even floodlit at night making it possible to enjoy a safe dip on a hot summer evening.  There are two children's playgrounds in this park, including a nautically themed one, plenty of picnic tables and lots of room to spread out.
4.     Currumbin Valley Rock Pool – Currumbin Creek Road
Heading inland from the main beach you will find a cool and relaxing rock pool  adjoining crystal clear Currumbin Creek.  Enjoy a tranquil swim under shady trees until you work up an appetite.  The barbequing area is a little smaller here so you might want to get in early.
5.     Hollindale Park – Main Beach
The best feature of Hollindale Park is its proximity to walking tracks (if you fancy a stroll to unwind after a big lunch) and to a patrolled surf beach.  Just next to the Pavilion in Main Beach, Hollindale Park offers a nice choice of picnic tables, wide green spaces and a modest but interesting playground and sandy area for kids.
6.     Cascade Gardens
This is one of the most popular family picnic spots on the coast.  Featuring multiple barbeque and covered picnic shelters, Cascade Gardens allows you to stretch out in leafy surrounds as well as take in a little history.  The unique Kokoda Memorial Walk is well worth a look, commemorating the courage and determination of the soldiers who fought in this area of Papua New Guinea during the second World War.
7.     James Overell Park
James Overell Park is a great place for combining your barbeque picnic with a bit of outdoor activity.  Whether you are into ultimate frisbee, touch football or backyard cricket, there is plenty of uninterrupted space – just perfect to burn off some energy and live the Australian sporting lifestyle.
8.     Paradise Point
The parklands at Paradise Point are arguably one of the most scenic parks for barbecuing on the Gold Coast.  Tucked away between Hope Island and Runaway Bay, the parklands have recently undergone a major upgrade and refurbishment, with pristine picnic tables, new barbeque facilities, public amenities and walkway for taking in the local scenery.
9.     John Laws Park
Sitting high over Burleigh Headland, John Laws Park boasts one of the best views on the coast, looking all the way north to the high rises of Surfers Paradise.  With plenty of barbeques and grassy areas, it is no wonder this is a popular spot for holiday makers and families to gather on weekends.  Burleigh National Park is also close by offering walking and running tracks with stunning surf and hinterland views.
10.  McIntosh Island Park
Right in the heart of bustling Surfers Paradise, McIntosh Island Park offers an oasis of peace and lush green scenery.  It is popular for picnics and weddings alike.  Winding through the middle of this large park is a crystal clear stream, drawing the attention of local wildlife and birds. There is plenty of shade and a kid's playground.
Conclusion
Eating and entertaining outdoors is one of life's real pleasures, so make sure you get to at least one of these parks during your next stay on the Gold Coast.  Outdoor cooking and eating is an integral part of the Queensland lifestyle, and something we do almost on a daily basis, particularly during summer. To enjoy this lifestyle for yourself, make your Gold Coast accommodation a holiday home rather than a hotel unit. Barbeque and relax with all the comforts of your home.  It is a great way to avoid the crowds and you don't have to carry all your equipment and food down to the park.
A good source for family rental deals on Gold Coast accommodation is here www.goldcoastluxuryresorts.com.au/. Consider sharing your accommodation with 1 or 2 other families for an even better deal.
Flickr image by: attila acs