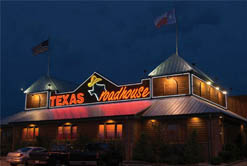 I like Texas for a number of reasons, with Texas BBQ near the top of the list. On a trip to Killeen, TX, I stopped in at their local Texas Roadhouse BBQ for dinner with some friends. I know it is a chain restaurant, perhaps tarnishing its image to some BBQ purists, but I figured that a Texas Roadhouse that was actually in Texas had something to live up to. So we called ahead and walked in the door at 6PM sharp.
First thought: Good thing they take phone reservations. It was a Monday night and this place was packed, the line snaking out through the door just to get on the list. No one seemed to mind though, with oak benches and a gargantuan box of peanuts to snack on while you waited. The atmosphere was spot on; I felt like I was walking into someone's barn for a picnic, albeit an extremely clean barn. The furniture was all natural finished wood, and the floor a rough concrete. The server seated us immediately with a basket of fresh rolls in hand that she left with us (fresh out of the oven every 5 minutes, she claimed). The whipped butter seemed to have honey, cinnamon and perhaps a hint of apple?
So straight to the meal: I chose the half rack of ribs, simply because the waitress labeled them as falling-off-the-bone ribs. For sides I ordered up my old favorites: a side salad with ranch and the baked beans. The service was prompt, with my ribs arriving just as I was about 2/3 of the way through the salad. As promised, I was able to easily eat through my ribs with a fork as the meat fell of the bone. They were very meaty, too; I think I got about a half pound of meat off of two bones. The barbecue sauce was good, but standard. The baked beans were complemented with generous chunks of pork and had a nice mild heat that didn't build up as you consumed them. The salad was fresh and met my expectations.
My first companion ordered a 10-oz prime rib, medium-rare. The waitress returned to let him know that they were out of medium-rare prime rib, and he accepted medium as a substitute. How were they out of medium-rare? It seems that if they had just stopped cooking it right then it would have been perfect. Anyway. when it came we could all tell that it didn't fit the bill. The meat looked solid, almost like a large, pinkish ham steak, and that was validated by his comment a few moments later. "This kinda tastes like ham…" He also ordered a salad with a vinaigrette dressing, but the highlight of his meal was the appetizer of hot wings (mild). He shared them out, and I can attest that even the mild wings had some spice to them. Cooked (baked?) in the sauce so it wasn't dripping, the chicken meat had an almost crunchy coating of pepper and vinegar BBQ sauce. I thought they were amazing, even though they were a departure from my sweet-but-slightly-hot wing preference.
The final member of our trio ordered the pulled pork sandwich, which was substantial in size (isn't everything in bigger in Texas?) and which he seemed to enjoy, although otherwise unremarkable. As the only member of our group to have visited another Texas Roadhouse location, the comparison between in-Texas and out-of-Texas locations was left up to him. "It was about the same as far as food," he said, "but it was so busy that it wasn't as entertaining. I have seen the waitresses and waiters dancing to country music at other locations."
There was definitely no room for dancing, as we had to thread our way through the crowd of people waiting to get in, our doggie-bags in hand. I would definitely recommend that you try out your local Texas Roadhouse location, but I would stick with the ribs and wings. Also, if you are out of town and staying at a hotel as we were, be sure to ask about discounts. The front desk endorsed a few coupons that saved us a couple of bucks, which always makes the meal that much tastier in my book.