I am in Vegas attending the Mountain West Conference Championship and saw in the program an ad for Memphis Championship Barbecue. (Future note: Advertising works in game programs).
It was near the end of one of the games (Utah was beating Air Force) and so my brother-in-law and I decided to grab a quick meal in between games and we were hungry for some barbecue. He had heard good things about Memphis Championship Barbecue before and we decided to give it a try.
When we walked in we noticed a cosy-homestyle atmosphere complete with corrugated aluminum on the walls with various antiques and cooking utensils (i.e. rolling pins) hooked on the wall.
In talking with our server (Dani) we found out that there are 5 locations of Memphis Championship Barbecue (3 in Las Vegas and 2 additional locations in IL). The restaurant is called Memphis Championship Barbecue because the owner (Mike Mills) has won several (4) Memphis world barbecue titles for his slow cooked ribs.
The service was very friendly and Dani took good care of us. She recommended her favorite (the brisket) and I ended up choosing a 3 meat platter with brisket, baby back ribs, and pulled pork. For the sides, I chose (on Dani's recommendation) the Mac and Cheese and the Cucumber salad.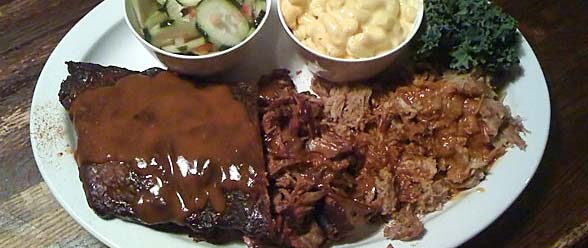 Of the 3 meats, I liked the Brisket the best, then the pulled pork, then the ribs.  The ribs were a little well done for my taste, but the sauce was pretty good.
My brother in law chose the pulled pork sandwich and had the traditional sides of beans and slaw.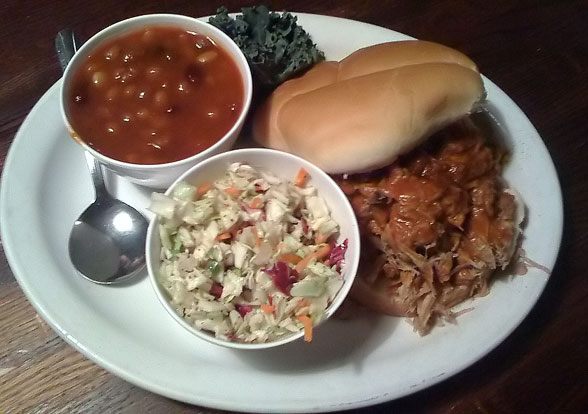 Some of the fun things we liked while we were there:
Drinks were served in quart size canning jars like my mom used to use
The pre-appetizer was warm homestyle rolls with a delicious whipped butter with cinnamon and honey
Cole slaw was really good on the sandwich – it added some tartness (is that a word?) to the sandwich.
Beans were really good and contained ~5 kinds of beans
Brisket was my favorite – Dani checked in and said "I told you so"
Service was very friendly complete with Darlin's and Sweetheart's
Sauce on the BBQ Pulled Pork Sandwich was really good.
They had a book for sale at the register by Mike Mills that I couldn't pass up.  It is called "Peace, Love and Barbecue".  It had a ton of recipes including one for Wilted Salad that sounded like a family favorite.  I purchased it for my Barbecue library.
All in all, a good eating experience and I would go again…