Barbecues are a great way to enjoy food and good company with family and friends.  In the past, vegan and vegetarian food choices made attending the family BBQ tough to do.  However, vegan bbq options are joining traditional grilled meat dishes as wonderful side dishes and are often becoming the standalone meal as more people are choosing healthier eating habits, including grilled vegetables and fruit dishes.
Here are some delicious BBQ Vegan Recipes to try this weekend…
Grilled BBQ Mushrooms and Eggplants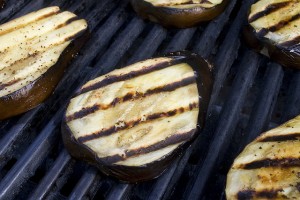 Grilled eggplants and mushrooms are great standards of the vegan barbecue tradition. They can be grilled with nothing more than a basting of olive oil, or spiced up in many kinds of marinades.
Eggplants come in many kinds, and farmers markets are great places for finding unusual varieties. Long, skinny Japanese and Thai eggplants cook quickly and have lots of flavor. A simple Thai marinade uses:
1/4 cup olive oil
3 cloves of garlic
1 small onion
2 tbsp cilantro, finely minced
juice of 1 small lime
1/2 cup chopped basil
2 tsp brown sugar
Mix all ingredients and gently toss in 6-8 Thai eggplants, sliced once down the center in the long direction. Marinade in the refrigerator for one to four hours. Grill about 3-5 minutes per side, watching carefully so they do not burn.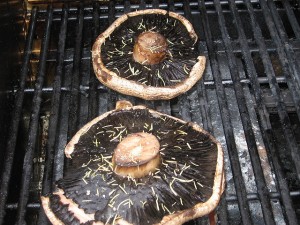 Portabella and large shiitake mushrooms are easily handled on the grill. Remove the stems and wipe off any dirt before marinating and grilling. The Thai marinade can be used with mushrooms, too.
For a more adventurous mushroom grilling idea, try this tequila marinade:
1/4 cup tequila
1/8 cup olive oil
juice of 1 lime
3 tbsp minced garlic
salt and pepper
Marinate mushrooms for 20 minutes to 2 hours. Grill slowly over medium coals for about 20 minutes, turning several times until moisture and alcohol evaporate.
Nothing Beats Grilled Beets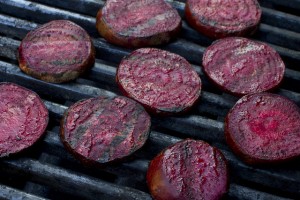 Beets are a succulent and hearty vegetable for the grill. Slice beets into ½-inch thick slices. Peel off skin. Place the slices in a marinade of:
1/3 cup balsamic vinegar
1-2 cloves garlic, minced
3 tbsp of finely chopped herbs like rosemary, sage, thyme, and marjoram
After marinating, put beet slices on a large piece of aluminum foil in a single layer and cover tightly with more foil. Bake on the grill for about 20 minutes, or until beets are tender, then place slices directly on the grill for about 5 minutes, turning once.
Potato Meal Pack
Barbecues bring to mind all kinds of foods sizzling on the grill, but grilled potato and veggie packets quietly cook with little tending are a scrumptious and simple option. Add one or more simple toppings, and potato and veggie packets are a meal in themselves.
Use one large russet potato per person. Wash thoroughly, leaving skin on. Slice into ½-inch slices. Set cut potato onto a piece of aluminum foil twice as big as the potato. Between the slices of potato alternate with slices of onion, sweet peppers, mushrooms, and fresh tomatoes.
Sprinkle the top of the whole packet generously with olive oil, fresh herbs, salt, and pepper and completely close the foil around it. Grill the package directly in the coals or on the grill, turning once, until the potato is soft. Serve with toppings like pesto, salsa, and humus.
Why Leave Out Desert?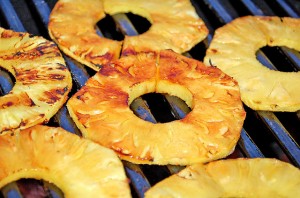 Two fruits that do well barbecued are pineapple and mango, making a healthy barbecue desert. Peel the fruit, slice, and baste on the grill with a mixture of lemon or lime juice and brown sugar. Turn the fruit slices every few minutes and serve when they become lightly browned.
This article was written by Arnel Dreyer, a passionate foodie who promotes a vegan or vegetarian diet throughout the web. He writes this on behalf of culinaryschoolsconnection.com, your top source when looking for culinary schools. Make sure to check them out!
Image credits: