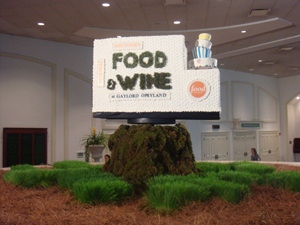 I just got back from the Food Network Food and Wine Festival at the Gaylord Opryland Hotel in Nashville. It was an awesome experience. One recipe that I liked at the Festival was a Mint, Lime, Chiles and Peanuts Slaw. Now to be honest, I do not like slaw. I am just one of these people who thinks food should not touch on their plates and slaw is just too much for me to handle.
But Suvir Suran, who created this recipe and who opened the restaurant Devi in Manhattan was all the rage at this one booth. I had to try it and loved it. You may want to give this recipe a try as well for any type of gathering. You will have to go to a specialty spice shop to find the chaat masala. Chaat masala is a spice used in India cuisine. It will be worth the trip.
EVERYDAY INGREDIENTS:
1 3/4-inch fresh ginger, peeled and grated
Juice of 1/2 lime
1 1/2 teaspoon white wine vinegar (citrus vinegar if you can find it)
1 1/2 Tablespoons sugar
3/4 teaspoon chaat masala
1/4 teaspoon toasted cumin
Pinch cayenne pepper
2 teaspoons kosher salt
1/4 teaspoon ground pepper corns
9 scallions, thinly sliced
1 jalapeno, seeded and veined
1 pint grape tomatoes, halved
1/4 cup fresh cilantro, finely chopped
1 Tablespoon fresh mint leaves, finely chopped
1/2 head of cabbage, halved, cored and finely chopped
1 cup chopped roasted peanuts
SIMPLE INSTRUCTIONS
STEP ONE: Assemble all ingredients and cooking utensils.
STEP TWO: Whisk the ginger, vinegar, lime juice, sugar, chatt masala, toasted cumin, cayenne pepper, salt, and ground peppercorns together in a large bowl.
STEP THREE: Add the scallions, jalapeno, tomatoes, cilantro and mint leaves.
STEP FOUR: Toss to combine.
STEP FIVE: Add the cabbage and toss with your hands, making sure to coat it thoroughly.
LAST STEP: Sprinkle with the peanuts and serve immediately.*
*If the salad cannot be served immediately, wait to add the peanuts. Cover the salad and refrigerate with plastic wrap for up to 4 hours. Add the peanuts before serving.
Michael Wright
http://www.athomewithmichael.com
Purchase Michael's best-selling book at http://www.athomewithmichael.com.
Highly recommended by Amazon.com