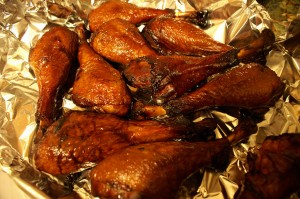 You can enjoy turkey all year round.  Try this spin on a classic dish.
Teriyaki Turkey Tenderloin
Ingredients
1 cup soy sauce
2 cloves garlic, minced
1 teaspoon grated ginger
3 tablespoons dark brown sugar
1 teaspoon lime juice
1/2 cup lemon-lime soda
2 tablespoon minced cilantro
1-1/2 pounds turkey tenderloin (you can buy them pre-sliced at the grocery store)
Directions:
Mince garlic, ginger and cilantro.  Place soy sauce, brown sugar, lime juice, lemon-lime soda in a zip close bag.  Add garlic, ginger and 1 tablespoon cilantro to the bag.  Reserve remaining cilantro for garnish.  Mix well.
Remove cartilage from the turkey tenderloins and slice ½-inch thick.  Place turkey in marinade and marinate in refrigerator for 6-8 hours.
Remove turkey from bag and pat dry.  Preheat grill to medium.  Oil grate well.  Cook turkey to create grill marks. Grill for 4-5 minutes on each side.  (Until a meat thermometer reads 160°) Remove and let rest.  Sprinkle with reserved cilantro and serve.
Enjoy,
Chef Lisa
www.yourdomesticgourmet.com