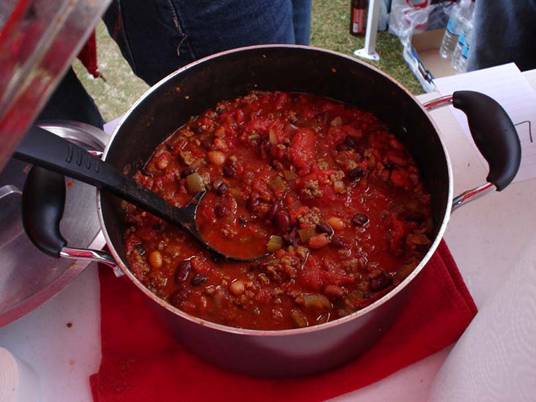 Chili is a regular addition at any tailgate party at least sometime during the season.
Here is the recipe submitted from Ute Tailgaters that is the 2 time winner of the Utetailgaters.com Chili Cook Off
Tip's Ute Touchdown Chili
Ingredients:
1 pound each cubed sirloin and pork sausage (I like Jimmy Dean brand)
1 medium onion, diced
2 green bell peppers diced
2 cups chopped celery
2 (28-ounce) cans diced tomatoes
1 (28-ounce) can whole, peeled tomatoes
Ground cumin to taste
Chili powder to taste
Cayenne pepper to taste (this can make it really hot so be careful)
1 (14 1/2-ounce) can black beans, drained and rinsed
1 (14 ½-ounce) can chili beans, drained and rinsed
2 (14 1/2-ounce) can kidney beans, drained and rinsed
1 package chili seasoning mix (I like McCormick brand)
Sour cream, shredded cheese, or chopped green onions, for garnish
Directions:
In a large skillet brown cubed sirloin and sausage (season if desired), drain and set aside.
Heat a large pot over medium heat with 1 tablespoon olive oil.
Add the onion, green pepper, and celery and saute briefly.
Next, stir in the diced and whole tomatoes.
Add cumin, chili powder, and cayenne to taste, and cook for about 10 minutes or until vegetables are tender.
Add the beans, browned meat, and chili seasoning.
Cover and let simmer for 2-3 hours.
Serve with Sour Cream, chopped green onions, and cheese as garnish
Serves 8-10 tailgaters
[ratings]
Submitted by our friends at Ute Tailgaters
Note from Dave at Barbequelovers
I tried this award winning chili cookoff recipe one evening with my family. It turned out awesome! I didn't use the celery – I am not a big celery fan, but other than that I followed the recipe as outlined.
I can definitely see why this chili recipe is winning awards at the chili cookoffs! It is delicious!
Try it and post your thoughts in the comments section.
Dave