Potato salad, beans and coleslaw have long since been the staple side dishes of BBQ's around the world but between you and me I'm starting to get a little sick of them. Now don't get me wrong, I'm a lover of the traditional and my mama always did know how to make the tastiest coleslaw but we're in 2013 for crying out loud and we're still eating the same side dishes that we did when we were kids!
How about injecting a little variety into this year's BBQ? If you really can't do without your faves then don't but this year add something extra, exciting and downright different that is sure to leave your guests wanting more and to reignite a love for the BBQ side dish!
Now I know what you're thinking, the last thing anyone wants to do on a hot summers day is work any harder than they have to (especially where good food is concerned) but rest assured that an exciting, different and delicious BBQ side dish needn't take too long, in fact; some of the best take no time at all!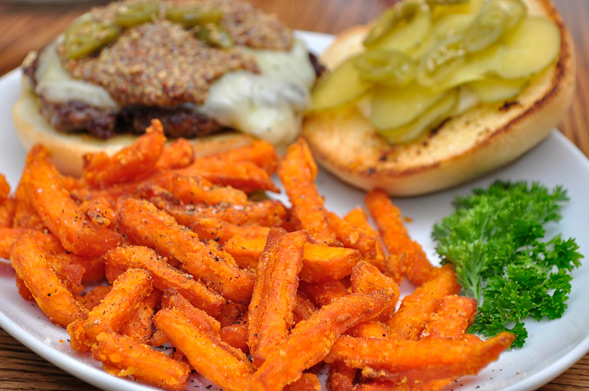 To make it simple; below are my top five side dishes that are easy to create and will ensure that this year's BBQ will be one to remember for all the right reasons.
Sweet Potato Fries- Never has anything tasted so good and taken so little effort to make. What do you need to do? Simple, take a few sweet potatoes, cut them into fries, sprinkle with a little olive oil, salt and pepper and then wrap in foil and leave to grill on the BBQ (or if you're fussy you can do this beforehand in the oven) and in no time at all you'll have a bowl of fries that will knock Ronald McDonald's socks off.
Corn Bread- I have never seen corn bread embraced over here in the UK but if you're looking for a quality, warming, staple side dish then this is the one for you. The ingredients?  1 cup of Corn meal, half a cup of self-raising flour,  a teaspoon of salt, a teaspoon of baking powder, half a teaspoon of baking soda, half a cup of buttermilk,  2 eggs and 4 tablespoons of melted butter. Knead into a dough, bake for 20 minutes and there you have a side dish that is beautiful, simple and utterly tasty!
Mash- We've had potato salad, we've got fries so what about a little mash? Perfect if your serving up steaks and let's face it, it's nice to have a little variation. For the best tasting mash I love putting my own spin onto Nigellas recipe that mixes mashed sweet potatoes with mashed regular potatoes, a sprinkle of black pepper, salt and a pinch of cayenne pepper and half a teaspoon of garlic for the perfect accompaniment.
Mac and Cheese- Another staple American dish that needs to be embraced here in England; mac and cheese is a brilliant BBQ side dish. For the best results, cook your mac and cheese as regular but sprinkle in a little blue cheese too, then place in a baking dish, sprinkle on some toasted breadcrumbs and bake for twenty minutes to get that gorgeous, soft, crumbly, cheesy and oh so heavenly side dish!
Bacon and Potato Salad- A variation on the original; this dish takes thick slices of potatoes, thick slices of bacon and mixes them in with asparagus, courgettes and peppers for a salad that is a little more alive.
We all know that no matter how good that slab of meat may be; if the side dishes aren't as powerful, you could end up looking at one big plate full of dull so why not bring your BBQ alive this year with a little more variety?  The above are just a few of my favourite dishes but hopefully I have managed to show you that with a little extra time and effort, you can reignite your passion for outdoor meals yet again. Say goodbye to boredom and hello to flavourtastic fun!
Article by Michael Price from http://www.bedsbbq.co.uk
* Sweet Potato Fries picture courtesy of jeffreyw