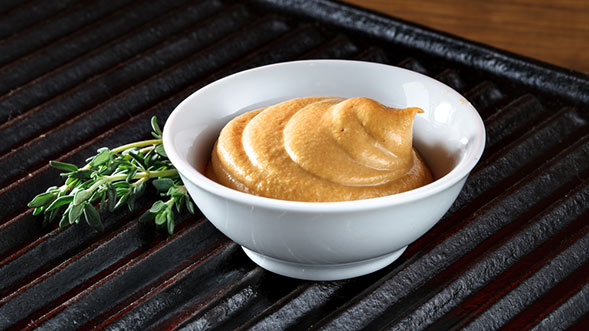 There's no doubt that mustard is a popular condiment, whether it's used as a topping for hot dogs and hamburgers or a dip for chicken nuggets and fries. What people may not realize, however, is that mustard is more than just a simple condiment, and can be used to create a variety of dishes sure to impress even the pickiest dinner guests. So take that mustard off the condiment shelf in the refrigerator and put it to work in salads, glazes, sauces, vegetables, dressings, and casseroles.
1. Mustard as a Glaze
Do you have a salmon in the freezer just waiting for the perfect glaze? Is your family sick of eating the same, boring pork chop recipe? Do you have some chicken just waiting to be prepared in a new, delicious way? Whether dinner tonight is chicken, pork, or fish, mustard can serve as an easy glaze or rub to spice up the meal. There's no need to buy a fancy glaze or the ingredients to create a complex rub when the fridge is likely holding the perfect option – mustard! Use different styles of mustard, from Dijon to brown, yellow to spiced, to vary up the flavors even more and create the perfect glaze for your favorite meat dishes.
2. Mustard Based Barbeque Sauce
Looking for an alternative to the traditional tomato based barbeque sauce? While there are many barbeque sauces that include some hint of mustard, did you know that it is possible to create an innovative barbeque sauce with mustard as the base? Consider mixing vinegar and mustard for a Carolina-style sauce. Add some brown sugar for a Georgian barbeque flavor. Again, try experimenting with various mustard types on different meat dishes to create a new, interesting option for your next barbeque.
3. Mustard on Veggies
Looking for a healthier topping for veggies than the traditional butter, salt, and pepper? Want to give those veggies a tangy, sweet taste that will have even the most discerning taste buds wanting more? A spoonful of mustard can serve as a topping for a variety of veggies, from carrots to green beans. Mustard also works great as an additional ingredient in mashed potatoes that gives the dish an interesting kick.
4. Mustard in Favorite Salads
Everyone loves a good potato or macaroni salad, but how about spicing up the classic favorite with some tangy mustard? Simply add a spoonful (or two) to the typical dressing used for these salads. The same can be done when creating egg or chicken salad. Feeling particularly creative and brave? Use spicy mustard as the entire base for a potato salad with a twist!
5. Mustard in Dressings
Who doesn't love good, homemade vinaigrette as a delicious dressing on a salad? Next time you're mixing together the oil and vinegar, why not add some mustard to the mix? Not only does the mustard add to the flavor, but it also serves as an emulsifier, helping to fuse the oil and vinegar together.
6. Mustard in One-Dish Meals
Casseroles are an easy-to-make family favorite. From chicken potpie to beef stew, adding a bit of mustard can improve the taste of a traditional one-dish meal. Moreover, there are a variety of recipes available for helping you make mustard-based dishes such as mustard veal stew or a vegan Dijon rice and broccoli casserole dish. Try adding mustard to your favorite one-dish meal to really take the flavor to another level.
Without a doubt, mustard is a common condiment, up there alongside ketchup in the collection of picnic and BBQ necessities. But like ketchup, mustard has a variety of uses beyond being just a topping on some bratwursts. Whether you use it as a glaze of mustard on a meat dish to a tangy addition to vegetables, dressings, and casseroles, pull that mustard off the condiment shelf and bring it into the spotlight where it belongs.
This post is by Ashley Williamson, a part-time guest blogger and a full-time food lover. In her spare time she likes to travel and discover great dishes from around the world."