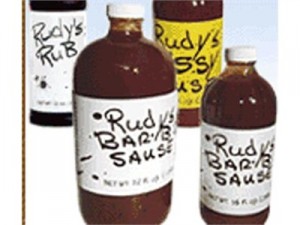 Barbecue Sauce: Rudy's Country Store has some of the Best
I am always up for trying something new. Maybe a new recipe, restaurant, or in this case, some great new barbecue sauce. This particular sauce wasn't something I could find at the local grocery store. In fact, I accidentally stumbled upon it while browsing the Internet. Rudy's Country Store BBQ was what I came across. Based just north of San Antonio, and too far for my reach, I visited their website with the curiosity.
First I scanned through the home page. Talks of slow burning fire pits with 100% oak, a slower burning wood. They cook with a dry rub and top it off with some Rudy's Bar-B-Q Sause. I had to get my hands on some. Too bad I am nowhere near San Antonio. Then I saw the 'shop' button, and that lured me in like it has so many times before.
They have everything! They sell their famous sauces, rubs, t-shirts, hats, and even meat! They even have gift baskets that give you a little bit of everything. I went with the Rudy's Original Bar-B-Q Sause, and some rub to go with it. Not as expensive as I thought it might be, and it was definitely worth it.
Now I don't have a 100% oak wood-burning stove to work with, but I managed to make due.
What I found was too good to be true. I'm talking of course about the taste of their delicious BBQ sauce. I kept the recipe really simple, and just let the ingredients do the work. Started with ~2 pounds of country style pork ribs. I applied the rub; already had the grill preheated to 315 degrees, and slowly cooked the ribs for an hour and a half. Smelled so delicious all along the way, and when it came time to take them off the grill I almost did not want to put the BBQ sauce on. The rub seemed like it would be good enough. I decided to do half with just the rub and the other half with the added BBQ sauce.
The whole family loved it! We all had our favorites of which way was better, but I was torn. I could not decide which one was better. I felt like it was some of the best BBQ I have ever had, and right in my own home. You cannot beat that. It turned into a great night with food, family, our new Haier television, and of course some of Rudy's Bar-B-Q favorites. Highly recommend Rudy's BBQ Sauce!
Article Submitted by Alina Cambridge (write your own review)