Barbeque Pulled pork recipe from Ute Tailgaters.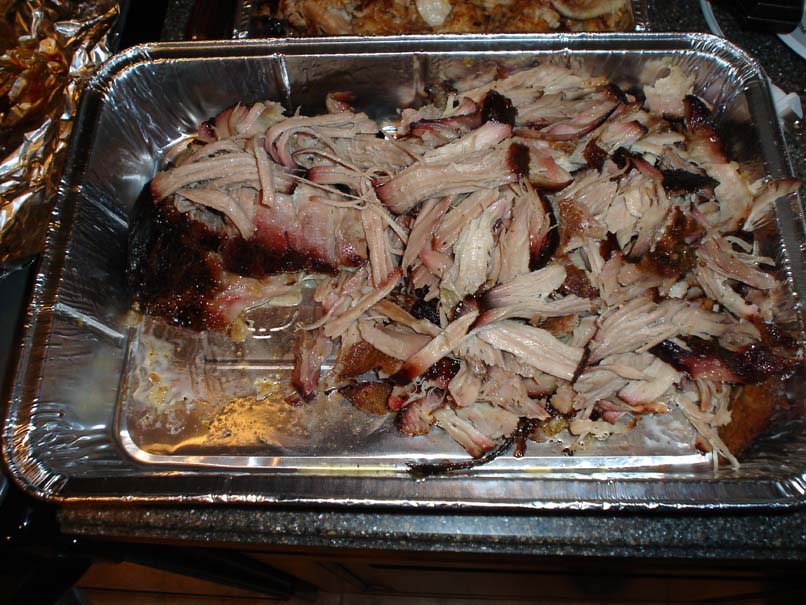 They reserve this pulled pork recipe for the second tailgate of the year, which generally is a non-conference game. In the past Utah has played Weber St (2008), UCLA (2007), and No Arizona (2006). They haven't yet perfected a rub recipe of their own yet, instead opting for their favorite commercial rub "Hog Rub" from Oklahoma Joe's BBQ in Kansas City. You can check them out at http://www.oklahomajoesbbq.com.
Utetailgaters.com BBQ Pulled Pork
Ingredients:
One 5-7 lb pork shoulder or pork butt (bone-in or boneless)
Your favorite BBQ rub (I like "Hog Rub" of Oklahoma Joe's BBQ – Kansas City)
Spray bottle filled with apple cider (or apple juice)
Apple wood chips enough to smoke with for 8-10 hrs (any fruit wood works but stay with fruit woods)
Directions:
Rub the pork shoulder with your favorite BBQ rub the day before to let the rub set in
Wrap in plastic wrap and leave in refrigerator overnight
Start your smoker early in the day to allow at least 8 hours (10-12 hrs is preferred) of smoking
Remove the pork from refrigerator and remove the plastic wrap and let sit for 30-60 minutes to bring back to room temperature somewhat (a cold pork shoulder takes longer)
Soak about 3-4 cups of wood chips in water for at least 30 minutes
Place a drip pan filled halfway with apple cider beneath where the pork shoulder will rest
Start your smoker early in the day to allow at least 8 hours (10-12 hrs is preferred) of smoking
Once the coals are done add half the soaked wood chips to the coals or smoker box
Keep the smoker temperature between 200-225 degrees for the duration of smoking
Every hour add fresh coals (and soaked wood chips) to the smoker and also liberally spray the pork shoulder with apple cider
Have a meat thermometer nearby and once the internal temp has reached 180 degrees (about 10 hrs) remove from the smoker and wrap twice in heavy duty aluminum foil
Let it sit off of heat for another hour in the foil
Remove foil from pork and begin your pulling
The pork will shred easily and then you're ready to pile it up on your favorite bun
Add your favorite BBQ sauce and enjoy!
Serves about 14-16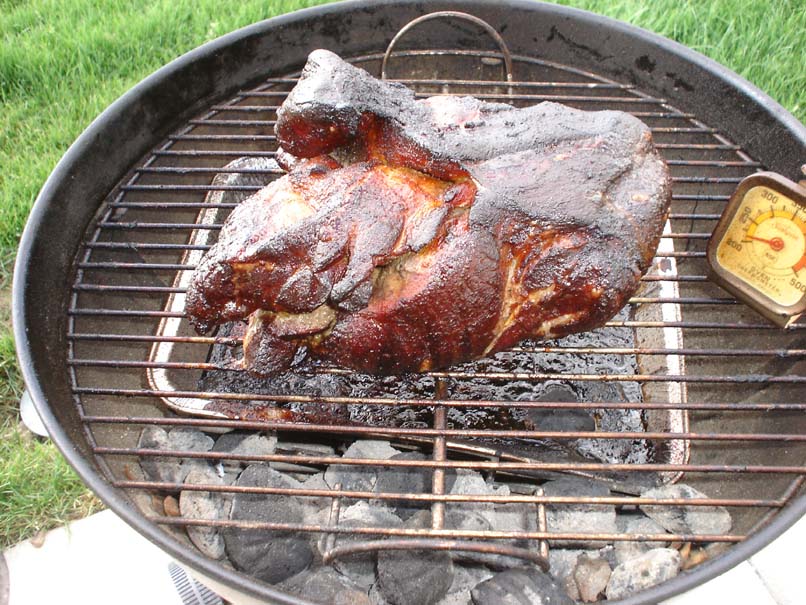 [ratings]
Brought to you by Ute Tailgaters