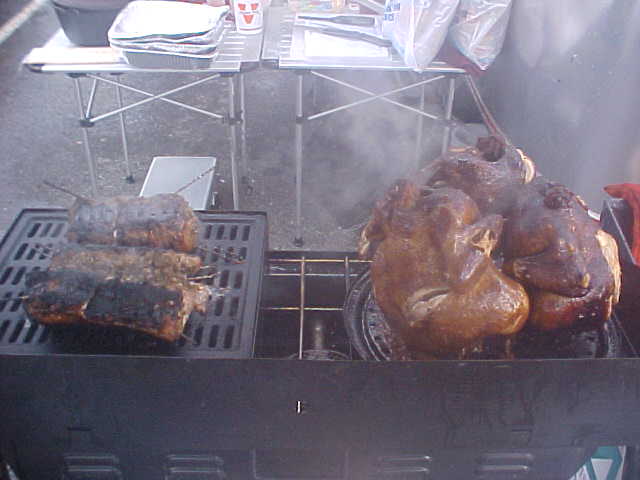 Ingredients:
2 cups coarsely chopped green onions
½ cup coarsely chopped onion
2 tbs white vinegar
1 tbs soy sauce
1 tbs vegetable oil
2 tsp kosher salt
2 tsp fresh thyme
2 tsp brown sugar
2 tsp chopped peeled fresh ginger
1 tsp ground allspice
¼ tsp ground nutmeg
¼ tsp black pepper
1/8 tsp ground cinnamon
2 cloves garlic, minced
1 to 4 Scotch bonnet or habanero peppers, seeded and chopped
1 (1 ½ pound) pork tenderloin or pork loin, trimmed
Directions:
Place first 15 ingredients in a blender or food processor, and process until smooth
Slice pork lengthwise, cutting to, but not through, other side. Open halves, laying each side flat. Slice each half lengthwise, cutting to, but not through, other side; open flat
Combine pork and green onion mixture in a dish or large zip-lock plastic bag, cover or seal
Marinate in refrigerator 3 to 24 hours
Remove pork and discard marinade
Place pork on grill rack coated with cooking spray; grill 8 minutes on each side or until meat thermometer registers 160 degrees (slightly pink)
[ratings]
Recipe used by permission from Clubhouse Tailgate.