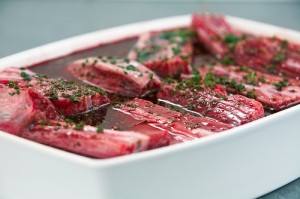 Spring is here.  It's time to open the windows, shake out the rugs, and—best of all—fire up the grill.  But what to do when April showers yield March winds rather than May flowers?  Not to worry!  It's still possible to attain the flame-licked flavor, even if the beloved Weber has to remain under its cover for a few more weeks.  The only kitchen appliances necessary are a Dutch oven, the under-appreciated "broil" setting, and the following ingredients:
3-4 lbs. of Babyback, southern-style, or short ribs
3 Tbsp. Garlic Powder
2 Tbsp. Paprika
½ C light brown sugar
1 C BBQ sauce
3 Tbsp. honey or maple syrup (optional – but recommended)
Directions:
Preheat oven to 300 degrees.  Divide the ribs into two- or three-bone sections.  Combine the garlic powder, paprika, and brown sugar and use this dry mixture to completely coat the ribs.  Place the ribs in the dutch oven.  (If you prefer, add I C water to the bottom of the dutch oven before placing the ribs in.)  Cover the ribs with the lid, and bake for 2 to 2 ½ hours, until meat begins to pull away from the bone.
When ribs are finished baking, take the dutch oven out of the oven and set it to "broil."  Use tongs to take the ribs out of the dutch oven and place them 1 layer deep in a broiling pan or a 1" deep cookie sheet.  Using a basting brush, coat the ribs completely with the barbecue sauce.  If you prefer to use honey or maple syrup (this will caramelize as the ribs are broiling), drizzle it over the top of the ribs.  Broil the ribs in the oven for two to five minutes.  Be sure to keep an eye on them!  Broiling will add a perfect char-grilled flavor, but it can also burn your ribs if you leave them for thirty seconds too long.
Once the ribs are finished, remove them from the oven and let them rest for about 10 minutes.  You may wish to brush them with additional sauce or just serve them as-is.  For an easy and flavorful side dish, quarter four red potatoes and place them around the ribs in the dutch oven with 1 cup of water.  Serve potatoes on the side with salt, pepper and butter.
Recipe submitted by Melissa