When folks come over here for a BBQ, ribs are undoubtedly the most requested fare. These may be the best ever. I use a Cajun rub and marinade. Then, finished them off with our Chipotle Raspberry BBQ sauce. Patti just buys store bought Cole Slaw as a side dish and puts it in a pretty bowl.
Ingredients:
4 Racks of baby back ribs
Cajun Rub and marinade (any brand you like)
Chipotle Raspberry BBQ sauce
Salt, pepper, garlic powder to taste
Worcestershire sauce spray
Note: I use a spray bottle when cooking on the grill filled with a Worcestershire sauce and liquid smoke mix that keeps things moist and adds tons of flavors. (Mix is 3 parts Worcestershire with 1 part liquid smoke)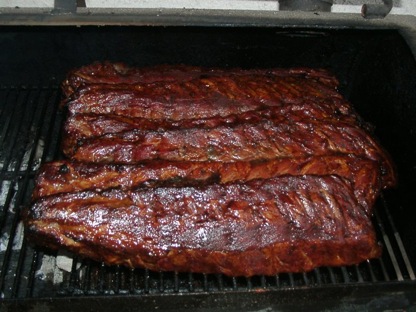 Directions:
Using your hands, rub the spices into the ribs, spray with Worcestershire mix and brush sauce over each rack of ribs. Get the smoker ready, you will want your temperature of around 200-250 degrees. Remember, you are going low and slow here. This will take all day (4-6 hours), make sure you have plenty of cold drinks.
Let these guys rest in the smoke until the meat starts to curl away from the bone, adding charcoal and wood chips as needed. Every so often give everything a spray with your Worcestershire spray to help keep things from drying out. Brush them down with BBQ sauce a few minutes (30) before you remove them from the grill. Let them continue to brown. Keep an eye on them that the sauce does not burn.
BBQ sauce:
I like a little ZING in my sauce. Some call this sauce hot. So I guess you need to go by your own taste. Me, I like it smoking …
Chipotle Raspberry BBQ sauce is hard to find and when you do it is expensive. I make my own. I buy 4 bottles of any .99 sauce (Hunts makes 4 of them). A large can of chipotle chili, a large sweet onion, a hand full of garlic cloves, a tablespoon or 2 of crushed red pepper flakes, two tablespoons of chipotle chili powder, two tablespoons of liquid smoke and a large jar of raspberry preserves. Whirl it all in a food processor until smooth, or if you prefer leave a little chunky. Patti likes chunky, I just like it…a lot.
Remember that a recipe is simply an outline; it is not written in stone. Don't be afraid to make changes to your taste.
Take it and run with it….
Enjoy,
Ken & Patti
Ken & Patti Fisher
Date Night Doins BBQ For 2
http://datenightdoins.com
[email protected]