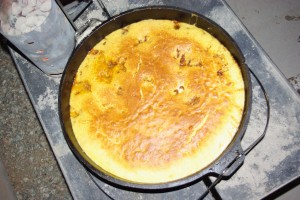 One of the favorite desserts that my family (and scout troop) love is my Dutch Oven Peach Cobbler.
I use a couple of cans of sliced peaches (or even better – home bottled peaches) that I have drained into a separate bowl on the bottom of the dutch oven.. I sprinkle brown sugar and cinnamon on top of the peaches. I mix up two cake mixes (a yellow cake mix and a white cake mix) together using the juice from the peaches and a can of Sprite. I do use oil and eggs as I mix up the cake mix, but I have skipped them in the past (resulting in a little flatter cake). I pour the cake mix on top of the peaches and put the lid on the Dutch Oven.
I put about 8-10 briquettes on the bottom and 18-20 briquettes on the top that creates an oven environment to cook in.
It takes about ~25 mins or so to cook. You can check to see if the cake is done by sticking a fork in it. If it comes out clean, you are done.
Serve it up and makes sure there is enough for seconds.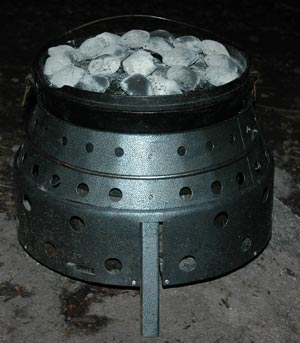 Also check out my Dutch Oven Peach Cobbler Simplified recipe
[ratings]