FRUIT TEA RECIPE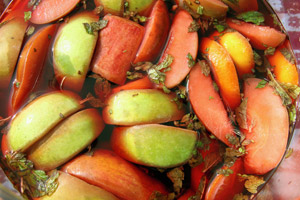 Since I have diabetes I am no longer allowed to drink. I miss my favorite blackberry wine. My wife will let me sneak a sip on occasion but that doesn't happen very often.
As with other diabetics, I have had to develop a healthier eating lifestyle. It really hasn't been a challenge, I have just had to change my way of thinking and have fun with it. Since I love to experiment its been easy to come up with recipes that will keep my sugar low. Try this Fruit tea recipe. It is a beautiful tea that I serve at home and at catering events. ENJOY!
EVERYDAY INGREDIENTS
2 family sized-tea bags Celestial Seasonings Wild Berry Zinger
2 ten-ounce bags frozen mixed berries
2 apples, cut into eighths
2 pears, cut into eighths
2 lemons
2 limes
Fresh mint leaves
SIMPLE INSTRUCTIONS
STEP ONE: Assemble all ingredients and cooking utensils.
STEP TWO: Brew one gallon of water that contains the two tea bags.
STEP THREE: While tea is brewing, cut apples, and pears. Slice lemons and limes.
STEP FOUR: Once brewed, pour tea into a large glass container.
STEP FIVE: Add the two bags of mixed berries.
STEP SIX: Add the chopped and sliced fruit. Stir in fresh mint leaves.
LAST STEP: Refrigerate overnight to allow the flavors to blend.
Michael Wright
http://www.athomewithmichael.com
Purchase Michael's best-selling book at http://www.athomewithmichael.com. Highly recommended by Amazon.com.