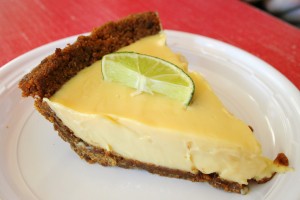 My wife adores Keylime pie. It makes her happy so when I get into trouble I make her one. We eat alot of keylime pie LOL. I have this blender recipe that is SUPER-EASY and tastes AWESOME.
EVERYDAY INGREDIENTS:
2 graham cracker pie crusts
1 (14 ounce) can sweetened condensed milk
1/2 cup lime juice
1 (16-0unce) package cream cheese
SIMPLE INSTRUCTIONS:
STEP ONE: Assemble all ingredients and cooking utensils.
STEP TWO: Add the condensed milk, lime juice, and cream cheese to blender.
STEP THREE: Blend until smooth. Pour the contents of the blender into the pie shell.
STEP FOUR: Cover generously with homemade whipped topping.
LAST STEP: Put it in the freezer for about 30 minutes or the fridge for an hour.
VARIATIONS:
– You can melt 1/2 cup white chocolate chips and add the mixture to add a hint of chocolate to the pie.
– You can also add a can of cherry pie filling as a topping…just to be different.
Michael Wright
http://www.athomewithmichael.com
Purchase Michael's best-selling book at http://www.athomewithmichael.com.
Highly recommended by Amazon.com