Competition BBQ are barbecue contests where teams prepare BBQ meats that are submitted to a panel of judges who rate the various entries on predefined criteria. The common categories include pork ribs, beef brisket, BBQ chicken, and sausage. The competition BBQ events are usually accompanied by some sort of festival and are all day events. For the larger competitions, BBQ teams come from all across the United States pulling huge portable smokers to compete for the chance to win tens of thousands of dollars in prize money.
The Competition BBQ events range from small local and county fair contests to nationwide competitions with hundreds of thousands of people attending. For example, the Rib Cook-Off in Reno, Nevada typically has over a half-million hungry BBQ lovers attending the event consuming a 100 tons of ribs over six days while the nation's finest rib cookers vie for the coveted first place trophy, cash prizes and the People's Choice award during this ultimate end-of-summer family affair held over the Labor Day weekend every September.
Those competition BBQ teams have put in the time and effort – the blood, sweat, and tears as my Father-in-law would say – to perfect their recipes and techniques that result in succulent, mouth watering brisket, bone sucking ribs, and finger licking BBQ chicken that are worthy of the grand prize.
So how do you go from being a backyard BBQ enthusiast to a BBQ Competition Grand Champion? It takes knowledge, practice, some amazing recipes, and some good luck to make it to the big time. In addition, it takes thousands of dollars in equipment, recipe ingredients, and meat, in addition to hundreds of hours of practice.  You have to test everything – that's right…everything!  You learn the hard, expensive, and long way.  You need to test different barbecue recipes every weekend, but along with those recipes, you need to test different cooking times, temperatures, rubs, sauces, glazes, marinades, brines, injections, woods, charcoals, fire techniques, water pans, and many other techniques to produce better slow smoked barbecue.
What if you could eliminate some of the time and expenses associated with becoming good enough to compete on a Competition BBQ team?  Good enough means that your BBQ prowess and skills provide results that taste every bit as good as the prize winning entry from this years BBQ competition.
Now…you can learn the secret barbecue techniques, tips and tricks of award winning BBQ Professional's. You can learn to cook on a level that you never knew even existed.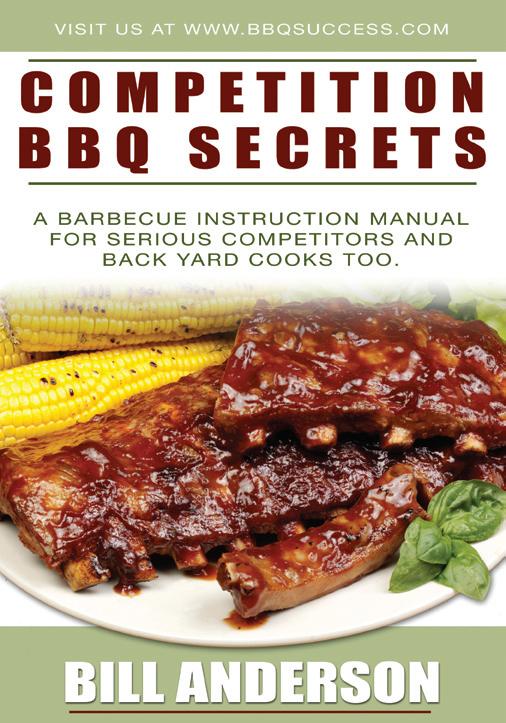 Competition BBQ Secrets written by Bill Anderson of the Chatham Artillery BBQ team (Savannah, GA) exposes the "impossible to find" critical information needed to barbecue like a Competition BBQ Grand Champion.
Competition BBQ Secrets includes:
Very detailed and exact barbecue recipes to cook championship ribs, butts, chicken and brisket. Each one is cooked differently and is explained in it's own chapter.
Cookers – the different types and how you can slow barbecue rib recipe smoke on anything from a professional offset smoker to your old trusty Weber kettle grill and everything in between.
How to smoke a turkey.
How your wood choice will impart that sought after smoke flavor and smoke ring.
How marinades, brines, and injections will improve the quality barbecue recipes.
You have to use rubs… your meats will be bland without them. We tell you all about them.
Your new book will also tell you how to properly use finishing sauces and glazes on your barbecue recipes – our raspberry vinagrette based "secret" recipe for chicken is worth the price of the book by itself. It's by far the best chicken I have ever tasted and has won several awards across the country including 1st place in Barnsville, GA.
We also give you some great information on competitions, how to prepare for competitions, and even a checklist of what to bring to a competition.
A complete list of all the BBQ Associations known to exist with the web address for each. Each BBQ Association has it's own contests and you can find their schedules easily with the information in your new book. We'll also show you where you can get a list of all contests in one place.
How to trim spareribs St Louis Style and how to trim a brisket.
A whole chapter on barbecue science – smoke rings and maillard reactions.
A complete list of resources for smokers, rubs, sauces, forums, and much, much more!
About Bill Anderson and the Chatham Artillery BBQ Team
The Chatham Artillery BBQ Team is located in Savannah, GA – smack dab in the middle of BBQ country.  They are well decorated in their Competition BBQ participation and have won or placed in multiple events over the last several years, including:
Winners of over $40,000 in prize money in Competition BBQ Events
2006 – 1st place in chicken, 2nd place in ribs, and 2nd place in pork in the Barnsville, GA BBQ & Blues Festival (a FBA sanctioned event). We also were the Reserve Grand Champion (2nd place overall). We won 4 trophies and $1300 in prize money
Grand Champion of the Hasan Shrine Spring Festival 2009 – Albany, GA (FBA) Some of the best teams in the Nation were there and we took 2nd in chicken, 2nd in brisket, and 1st in pork.
Grand Champion of the Blue Ridge BBQ & Music Festival 2009 – Tryon, NC (KCBS) There were 78 teams present at this KCBS event. We placed 1st in ribs.
Grand Champion of the Blue Ridge BBQ & Music Festival 2010 – Tryon, NC (KCBS), Back to Back wins! There were 87 teams this year. We took 2nd in chicken, 4th in ribs, 13th in pork, and 4th in brisket.
Grand Champion of the Festival of Discovery 2009 – Greenwood, SC (KCBS) There were 58 teams present at this BBQ contest and we placed 2nd in brisket.
Grand Champion of the Pigs & Peaches Festival 2009 – Kennesaw, GA (KCBS). There were 43 teams present and we placed 1st in ribs, 2nd in chicken, 4th in pork, and 3rd in brisket.
Grand Champion of the Florida State BBQ Championship (KCBS) at Daytona International Speedway on July 4th weekend 2010. Some of the best teams in the Country were at this action packed event on July 4th weekend.
Grand Champion of the Dillard, GA 2010 Bluegrass & Barbecue Festival with a surprise 1st place brisket and a good 6th place chicken. A good showing with 15th in ribs and 14th in pork rounded out the grand.
Competition BBQ Secrets is available both as a eBook that you can download immediately after payment and is available via a printed copy.
If you are serious about improving your BBQ skills to where you could enter a Competition BBQ event, you owe it to yourself to buy Competition BBQ Secrets and learn in an hour or two how to slow smoke meats like the pro's. Competition BBQ Secrets will save you about $1000 and a ton of time in (not) making "mistakes". Our book does not contain a lot of useless barbecue recipes. The best barbecue sauce recipe in the world will not help you if you don't know how to slow smoke the underlying meat correctly. Learning from the pro's at a competition is not easy… sure – they are friendly enough in a competitive way. They will even give you a tip or two if you ask nicely. But how can you expect to learn everything they know in a 15 minute conversation? It's not possible for them to teach you everything that took them years and years of trial and error to learn themselves! Some of them charge hundreds or even thousands of dollars to go to their cooking school! There's no need to go through all that… just spend $29.95 on Competition BBQ Secrets. I guarantee you'll save hundreds, maybe thousands of dollars just by not cooking meats that are so bad that you have to throw it out or feed it to your dog!
Be the hero at your next family cookout, buy Competition BBQ Secrets today and download your eBook instantly right after payment.
This book is not just for BBQ competitors… it was written with the backyard enthusiast in mind. Anyone can use the barbecue recipes in this book right in their very own backyard or in a local cookoff or in a serious competition like the Big Pig Jig or Memphis in May. We've even done a few big catering events for 300+ people. Every one of these 300+ people said our barbecue ribs were the best they have ever eaten.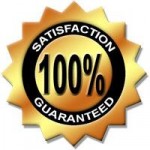 Satisfaction Guaranteed
Full 60 Day Money Back Guarantee
If, for any reason, you are not satisfied with your barbecue recipes, just send the processor (Clickbank) an email and they will immediately refund your money. There is a link to do this at the bottom of your email receipt. It's simple, easy, and fast.
Don't take our word for it, read what these people had to say…
I have been doing competitive BBQ cookoffs for 5 years around Austin. I have a shelf full of cookbooks and your e-book is by far the best I own. I use the rib recipe to the letter and have had great success with it. Last week I tied for 1st in ribs at the Hays County Fair in Texas. That qualifies me for the national BBQ cook-off in Meridian, Texas next week. I have also won in 2 other major contests following your recipe in the past year. As an aside – I have been cooking the super-trimmed briskets lately. They are not less tender, juicy, etc than cooking a whole brisket. A lot less cooking space too! Since we only turn in 7-9 slices, sort of makes sense. PS – I always had trouble with ribs until I read your e-book. Thanks, Dave Bliss Texas-Que-Step
---
I wanted to let you know that your book is wonderfull , so much info. We used some of your suggestions along with our ideas and were grand champions at our 1st BBQ cookoff. Everyone should get your book–packed full of info. Tom Mashos Fossil, Oregon– Smok'n Hot BBQ Team
---
Just wanted to let you know how relieved I am to finally read something about competition bbq that is informative and gives actual guidance on how to produce real bbq. I bought your book yesterday and have already read the entire book and I will read it several more times to pick up on tips that you have provided. I will be entering my first competition in a few months and your book gives me the confidence I need to take the first step in the competition world. Please, please let me know if you publish anymore literature on competition bbq or if you make any kind of instructive video because you guys definately are passing on great information and not a bunch of recipes and BS. Thanks again for sharing your wonderful knowledge on competition bbq. Roger Adair Roseville, CA
---
Hi ! Thanks for answering my question. I just finished reading the entire book today and it is awesome! It contains so many details and tips I've never heard before – I am totally pleased. It is the most informative BBQ book I have ever purchased. You're book rocks! Best Regards, Victor Scherer Draper, Utah
---
Bought your book a couple of years ago, and just entered my first contest 2 weeks ago, a small contest in Milbank SD. 18 Teams they all were all competitive teams and me with my little $150 smoker, I followed everything in your book to the letter, and advice from your news letters and took 1st in Ribs and Grand Champion. Thanks for everything chuck
Buy Competition BBQ Secrets today!