An award winning Tailgate Chili Cookoff Recipe.  Lots of ingredients, but worth the effort!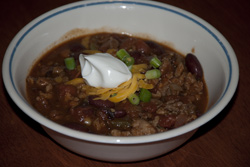 Ingredients
2 pounds ground beef
1 pound Italian sausage – I like my chili with a little heat, so I prefer hot Italian sausage, but my wife likes things a little more mild, so I typically use mild Italian sausage
6 strips of bacon
1 large yellow onion finely chopped
3 stalks celery diced
1 green bell pepper finely chopped
1 red bell pepper finely chopped
1 jalapeno pepper very finely chopped (about 1/8 inch square)
4 cloves of garlic – minced
1 can (15 ounces) kidney beans
3 cans (15 ounces) chili beans – in spicy sauce is the way I like it
2 cans (28 ounces) diced stewed tomatoes with Italian spices
2 cups beef broth
1 can (6 ounces) tomato paste
3 tablespoons chili powder
1 tablespoon Worcestershire sauce
1.5 teaspoons cumin
1 teaspoon salt
1 teaspoon black pepper
3 tablespoons brown sugar
1 tablespoon oregano
1 teaspoon chili powder
1 tablespoon hot sauce (i.e. Tabasco™)
1 tablespoon spicy brown mustard
Directions
In a large skillet, cook the bacon until crisp.  Remove and set aside on paper towels to cool
Cook the ground beef and sausage until browned.  Drain off excess grease and combine meat mixture with crumbled bacon bits into a large pot (or dutch oven) and heat at medium-high heat.
Add the rest of the vegetables, canned beans, spices, and liquids into the pan and simmer at low heat for 3 hours.
Check every 30 minutes during the cooking time and add water to obtain the desired consistency.
At 2 hours, taste the mixture and add additional salt and pepper to taste.
Add additional cayenne pepper to reach the desired levels of heat – careful not to add to much as the final hour of simmering will cause the heat to penetrate the rest of the batch.
After 3 hours, remove from heat and serve with cheddar cheese and diced green onions.
Refrigerate the leftovers and eat for lunch the next day.  It will be even better the next day!