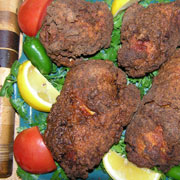 Although Colonel Sanders may claim to have created the original recipe, members of the BrewCrew6 have certainly added a kick to Kentucky fried chicken. Tailgating is a passion for Kenny Dedic, (A.K.A. "Not My Belly"), the creator of Habanero fried chicken, as well as the other five loyal Kentucky Wildcats fans that make up the BrewCrew6. The members of the crew have known each other for a long time, in some cases nearly 20 years. Three of the six core members have survived near-death experiences in the last four years (Dedic and Phillip Matherly are in remission after battling Lymphoma, and doctors had to use defibrillators to get Nick Douglas's heart pumping after he flatlined due to an artery bursting near his kidney), but that hasn't stopped them from eating a little deep fried home cooking. Now, all six members are alive and well—and still eating Kentucky Fried Chicken (with a kick).
Ingredients:
6 whole Chicken Breasts Boneless
4 ounce bottle of El Yucateco habanero hot sauce
1 cup flour
5 teaspoons cayenne pepper
1 teaspoon onion powder
1 teaspoon paprika
1 teaspoon pepper
0.5 teaspoons salt
1 teaspoon garlic powder
3 whole eggs
1 cup milk
Directions:
The night before the game, place thawed chicken breasts in a large zip lock bag and pour in the entire bottle of habanero sauce.
Fill the bag with water until the chicken breasts are submerged (don't use more water then necessary).
Zip the bag up, leaving a large air pocket, and shake completely until water and sauce have mixed, then open the bag and release most of the air out of it.
Zip the bag closed again and refrigerate overnight, making sure the chicken breasts are still completely submerged.
Meanwhile, mix together all the dry rub ingredients in a large zip lock bag. Shake thoroughly, making sure all ingredients are mixed well (dry rub can be made the night before or the day of the game).
The day of the game, preheat oil to 350 degrees (A turkey fryer with vegetable oil is suggested).
Prepare egg wash by mixing together eggs and milk.
Remove 1 chicken breast at a time and rub through the wash thoroughly.
Place the chicken breast in the dry rub bag and shake it until breast is covered in dry rub mixture.
At this point there are two choices: Place the chicken breasts in the oil and cook until golden brown, which will take about 10 minutes, or run the breast back through the egg wash and shake it one more time in the dry rub bag (The latter of the two choices is recommended).
As long as the internal temperature of the chicken is at least 165 degrees, it's ready to serve. The breast may be enjoyed by itself or as a sandwich
[ratings]
Brought to you by the wild and crazy tailgating group: Brew Crew 6 – Fans of the Kentucky Wildcats!