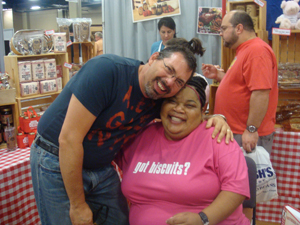 I just got back from the Food Network Food and Wine Festival at the Gaylord Opryland Hotel in Nashville. It was an awesome experience. You can read about it on my blog at http://www.athomewithmichael.com. The highlight of the trip was meeting Carol Fay who is known as the biscuit lady at the Loveless Cafe in Nashville, TN.
She has earned a following from her TV appearances on shows ranging from Bobby Flay, Martha, Ellen, and the Tonight Show. Whenever you watch Carol make her famous biscuits you know the ingredients, she just doesn't tell you the amounts. Although her biscuits are THE BEST…AND because we don't know the exact amounts of ingredients to be used, I recommend using the buttermilk biscuit recipe on back of the Martha White flour bag. (Until Carol gives up the recipe…which will never happen.)
As I was writing this I remembered that football is just around the corner and thought of a pecan biscuit recipe that would be GREAT for tailgating parties. Try this recipe and let me know what you think.
Pecan Biscuits Recipe
Everyday Ingredients:
2 1/2 cups Bisquick
1/2 cup chopped pecans
1 cup whipping cream
2 tablespoons melted butter or margarine
Simple Instructions:
STEP ONE: Assemble all ingredients and cooking utensils. Preheat oven to 450 degrees.
STEP TWO: In a large bowl, combine baking mix and pecans.
STEP THREE: Add cream and stir until a soft dough forms.
STEP FOUR: On a lightly floured surface, use a floured rolling pin to roll out dough to 1/2 inch thickness.
STEP FIVE: Use a floured 2-inch biscuit cutter to cut out dough.
STEP SIX: Place on greased baking sheet and brush tops with butter.
LAST STEP: Bake 7-10 minutes or until light brown.
Michael Wright
http://www.athomewithmichael.com
Purchase Michael's best-selling book at http://www.athomewithmichael.com.
Highly recommended by Amazon.com