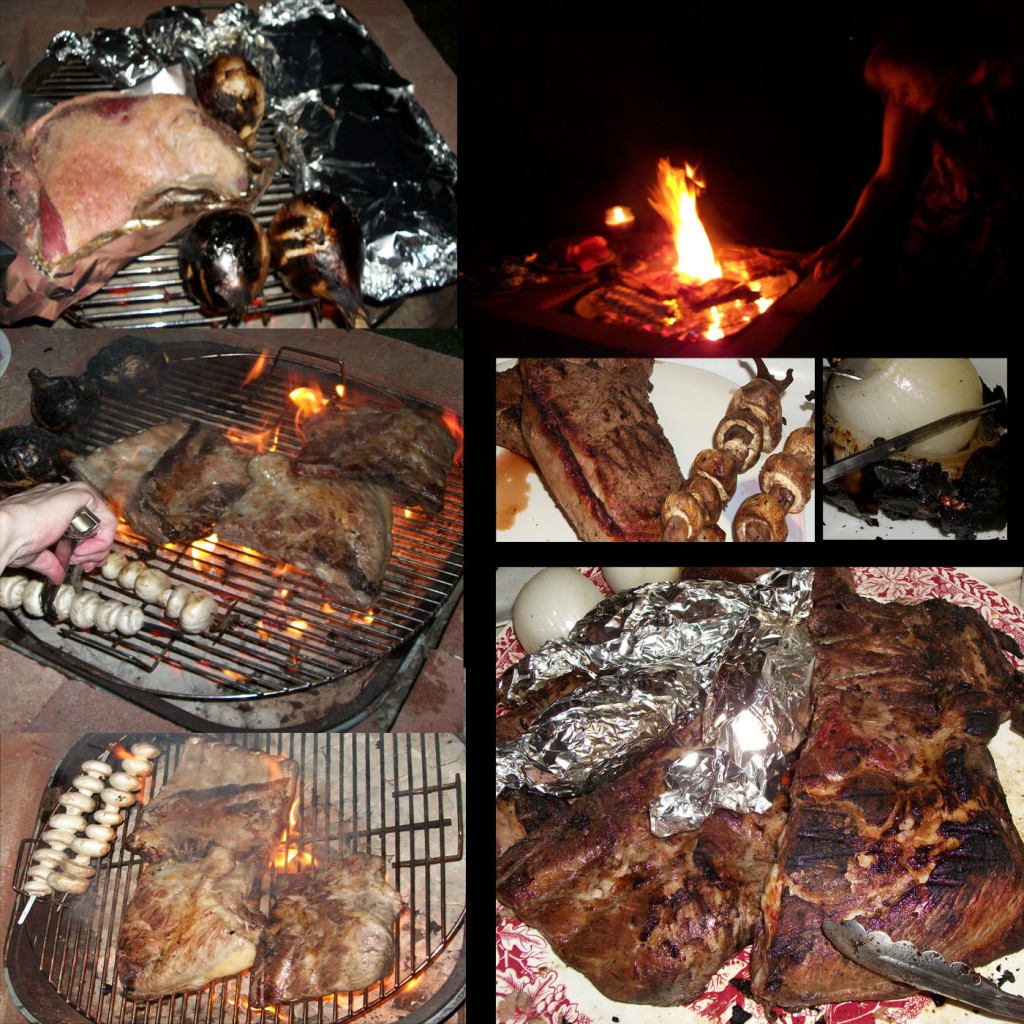 | | |
| --- | --- |
| Submitted By: | Kelly (Kay) Roberts |
| Location: | San Marcos, CA |
| Submitter Background: | I'm a middle-aged widow with two grown daughters and I'm a full time student working on my masters degree. I learned to grill from my father when I was a teenager and have built my own fire pits for the last fifteen years. I also design products for my family's store at Zazzle. |
| Recipe Name: | Mini Feast |
| Recipe Background: | I'm grilling like my father used to (he's deceased now). Normally I don't grill on such a hot fire, but we got a late start and had little time. Ribs were frozen from the store, so I wrapped them in foil then grilled them. Cut the tri tip into six steaks. |
| Ingredients: | Naked meat, with a light dusting of garlic salt and Lawry's seasoning. Meat includes a rack of pork ribs, New York Strip and a 3 lb. tri tip roast, then cut into steaks. Roasted white onions and baked potatoes. |
| Recipe Instructions: | Preferably have more time and cook on cooler coals, but if you're short on time like I was, just make sure to rotate the food every minute or so to keep from overcooking or burning. Put large white onions and potatoes on first. Wrap potatoes in foil after 20 minutes and let them cook the rest of the way in foil. Grill onions till black on the outside and soft on the inside once steak fork is stuck into them. Cut off ends and outer char to get to soft white onion and serve. Onion comes out sweet. Dust meat with garlic salt and Lawry's seasoning, then rotate it on the grill from the heat to a cooler part of the grill. Don't overcook! |
| Recipe Summary: | I love the natural taste of the meat and except for the little seasoning I use, I don't use any other rubs or sauces. |
Please rate this entry as a part of the Women of the Grill Recipe Contest by pressing the Facebook Like button.