I have a recipe for blackberry dumplings in my book that is very popular. I am considering this recipe for blackberry corn muffins for the second book. Try it and give me some feedback!
Homemade Blackberry Corn Muffins Recipe
EVERYDAY INGREDIENTS
1 1/4 cup all-purpose flour
3/4 cup corn meal
1 teaspoon Brown sugar
2 teaspoon Baking powder
1/2 teaspoon Salt
1/4 teaspoon Baking soda
3/4 cup milk
1/4 cup butter; melted
1 egg, beaten
1 cup fresh blackberries, pick from the field (thawed if using from freezer)
* You can also substitute blueberries for the blackberries or use both.
SIMPLE INSTRUCTIONS:
STEP ONE: Assemble all ingredients and cooking utensils. Preheat oven to 425 degrees.
STEP TWO: Combine flour, corn meal, sugar, baking powder, salt, and baking soda.
STEP THREE: Stir in milk, butter, and egg just until mixture is evenly moistened. Fold in berries.
STEP FOUR: Spray medium muffin cups with cooking spray.
STEP FIVE: Fill cups 3/4 full of batter.
LAST STEP: Bake for 15-20 minutes in the preheated 425-degree oven or until tops are golden brown.
Serve warm. Makes 12 muffins. Great topped with butter or homemade whipped topping.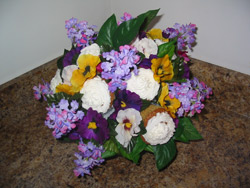 The picture is of a cupcake bouquet that I made for centerpieces for a luncheon. It was functional as it served as a table decoration and dessert. I describe how to make it in my book: At Home With Michael, My Most Requested Recipes. Yes, the white round globs are actually edible cupcakes.
Michael Wright
http://www.athomewithmichael.com
Purchase Michael's best-selling book at http://www.athomewithmichael.com. Highly recommended by Amazon.com