I worked with a guy named Jerry for years. He is a great guy and was awesome to work with. He moved on to another company and I hadn't heard from him in awhile until he pinged me on my new Facebook Barbequelovers page that he builds smokers.
He built one for his desk that I had to show everyone. It is awesome. He got the idea for it at "The Iron Works" in Austin Texas. They had a small one they won as a trophy and he used it as the inspiration for his desktop version.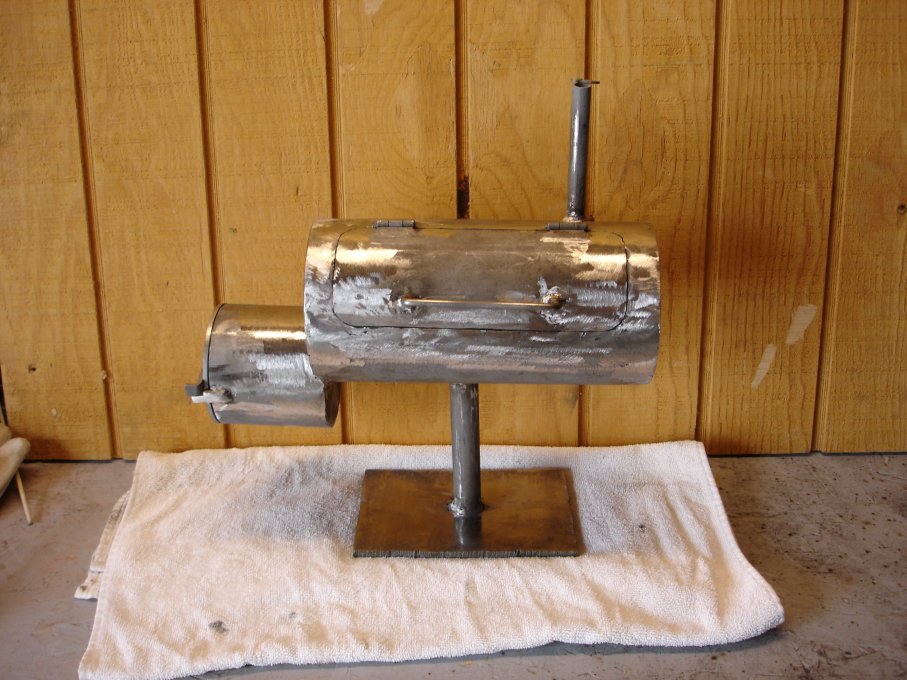 He also is creating a unit that hooks on to the hitch of your truck. The cool thing is that it has a firepit and will be gas operated – the ultimate tailgating solution! He wants to have that be his long term solution, and when it is not installed on his truck, he wants to mount it on a trailer hitch that he cements into his backyard.
He uses real steel (1/4 inch or even 3/8 inch steel pipe) not that thin cheap stuff you get with many of the smokers available on the market today. That makes them solid and heavy and expensive because of the cost of steel these days.
He built one out of 24″ steel pipe that was 6 feet long. He said that his neighbors were happy when got rid of it because they were sick of helping him move it.
He finishes them up with 1,200 degree high heat paint to protect the steel and keeps them looking great, although he says that even the 1,200 degree paint seems to peel because of the constant exposure to high heat. He read about a guy that used space shuttle paint. I don't imagine that would peel, but would be expensive ($600/quart)…
Love to try to build one of these someday…just got to talk my wife into letting me buy some welding equipment. I keep on telling her that everything is easier when you have the right tools