So you've liberated your barbecue from the garage, the weekend's weather forecast is glorious and you're already thinking about all the grilled meat you're going to consume from the comfort of your garden. Do you have the necessary bits and pieces to get the most out of your cookout, though? Read on for a quick top five of what you'll need to hit the ground running with some of these essential barbecue grill tools: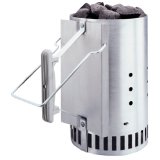 1. Weber Chimney Starter
Frustrated with the fiddly lighting of your barbecue? Breezy weather and funny tasting food from lighter fluid holding things up? Leave the firelighters out of the equation entirely with the Weber Chimney Starter. All you'll need to get things going is some crumpled up newspaper. The result? Evenly lit charcoals that are ready to go in under thirty minutes. Once they're ready the two handles on your Starter allow you to distribute your coals to the BBQ rack safely and evenly. An absolute must!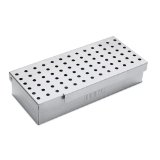 2. Weber Style Smoker Box
Smoking can seem daunting and time consuming so here's something to make it as easy as throwing meat on the grill: The V-shaped groove lets your Smoker Box sit comfortably upon the flavorizer bars of your Weber barbecue which positions your woodchip within easy access whilst also minimising the mess. Best of all, it helps to prevent the over excited first-time smoker in you from going too overboard with the amount of chips you throw in. With one regular bag of woodchip you'll be able to use your Smoker Box at least ten times before resupplying so go on, fill her up!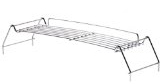 3. Weber Q300 Warming Rack
Sometimes the greatest inventions are the simplest: Attach this ingenious warming rack to your trusty Q300 and keep your tasty produce toasty so that even the guy at the back of the queue gets a portion that is hot enough to have come straight off the grill. No frills or anything fancy, just a very smart addition.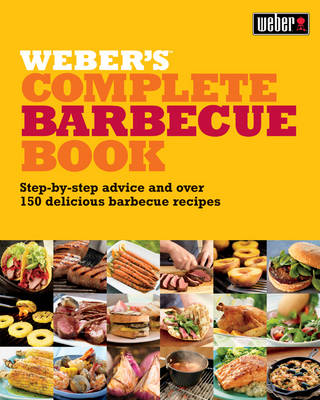 4. Weber's Complete Barbecue Cookbook
When we say "Complete" we mean this in every sense of the word: From simple tips on how to avoid charring food right through to exciting marinades, Jamie Purviance's flair and expert knowledge at the grill has helped us to put together this comprehensive BBQ bible. Fancy deviating from hot dogs and burgers? Check out the sections on seafood, vegetables and even fruit. Still hungry? Desserts are covered too! Who says you can't barbecue all year round?
5. Weber T Brush
While not as exciting as some of the other accessories listed here, a good brush can add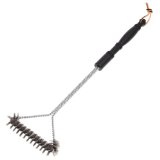 years to your Weber grill and save you plenty of elbow grease. Cast your mind back to the first sunny day of every year gone by: Remember the part where you take the barbecue out of storage and spend an afternoon scrubbing the unwashed grill in the sink? The T Brush can be used whilst your barbecue is fired up and actually works better when it's hot! Plus, there is a long fuss-free handle that will help keep your grilling fingers safe from the heat. Just another good reason to put those marigolds away.
And there we have it: These are just a few examples from a huge range of accessories that can not only get you outside and cooking faster, but can also add a whole new dimension to your cooking.
http://www.bedsbbq.co.uk/barbecue-shop/Weber_Barbecues.html