The Perfect Backyard Barbeque Layout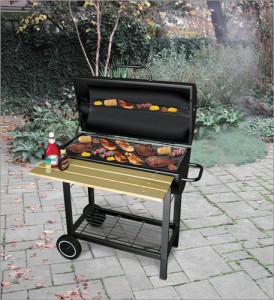 Hosting a backyard barbeque is one the most enjoyable parts of the summer. There's no better feeling than firing up the grill for the first time and enjoying your favorite grilled foods in the company of friends and family. While all you really need to enjoy a good barbeque is a grill and some food, by introducing a few additional elements to your patio like outdoor furniture, you can create the perfect barbeque layout to make the most of your grilling.
First and foremost you're going to need a good grill. Barbeque grills come in a variety of sizes and you have the option of using charcoal, gas, or electricity. Any good griller knows however, that charcoal gives you the best flavor. Gas grills are a popular choice because they don't take nearly as long to preheat and often have options like side burners and additional storage areas. No matter what type of grill you decide to use, you should do your best to position it close to your home to help make a shorter distance between your grill and your kitchen. This will make it easier for you to contact with the people indoors and helps lower the risk of dropping your foods as they travel from your fridge to the grill.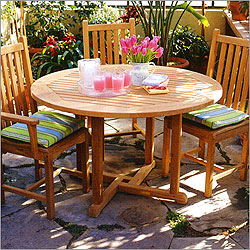 While the grill is vital for cooking, patio furniture is vital for serving and providing comfort. A nice set of patio furniture will help create a place to eat that has all the comforts of home while still dining outdoors. Invest in a quality hardwood table and chair set to furnish your patio or yard. Hardwood furniture will last longer and is more versatile and comfortable than furniture made from plastic. Wood furniture is also more stylish and has a more rustic and natural feel, which goes great with the nature of grilling. There's something carnal about feasting on seared animal meat that makes you more in touch with nature.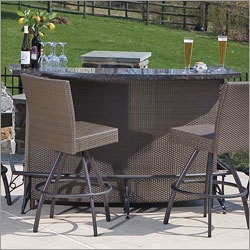 Eating and drinking go hand and hand and nothing helps make for the perfect barbeque like an outdoor bar for mixing your favorite cocktails. Adding an outdoor bar can help make any barbeque feel like a real party. You can man the grill and a friend the bar to help ensure everyone is eating and drinking happily. Bars also offer storage options where you can keep your grilling tools, dinnerware, and glasses which will mean more room in the kitchen.
Once you have acquired these barbeque basics, then you can get ready for the first barbeque of the season! These 3 elements can help turn any backyard or patio into an awesome outdoor kitchen where you can throw the best barbeque in town, every time!