2014 Best in the West Nugget Rib Cookoff Competitor
Website: http://www.jnomemphis.com/
Facebook Group: https://www.facebook.com/groups/39481953406/
Location: Thief River Falls, Minnesota
Just North of Memphis is only 3 years old, but can barbecue with the big boys already. Originally called Willinghams (named after and uncle who passed away), owners John and Kristy Bigalk wanted to create a family business where their family could draw closer and that they could hopefully pass along to their 4 kids.
Their kids have worked in the BBQ business for over 10 years and the youngest did dishes while he could barely see over the kitchen sink.  It has been a wonderful thing for their family because they have time together as a family and they firmly believe that a family that plays together stays together.
The family travels together to competitions (when the kids are not in school) and they enjoy spending time together and competing as a family.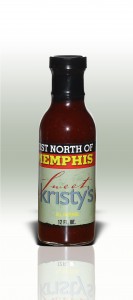 Q.  The company name is "Just North of Memphis".  Where exactly are you located?
A.  They are 900 miles north on the Missippi to Memphis – in Minnesota.  Willinghams was originally located in Memphis.  All the seasonings and sauces were originally part of the Willinghams company in Memphis and the seasonings still comes from Memphis, but they have since created their own BBQ Sauces, including Sweet Kristy's and Hot Kristy's.  Both of those are their own blends and will eventually be passed on to their kids some day.
Q.  Do you package and make your dry rubs and sauces available to the public?
A.  Yes we do, you can purchase them at the Best in the West Nugget Rib Festival.  Also they have a manufacturer in Minnesota that bottles their sauces for them.  You can also purchase those products online.
Q.  What is your specialty?
A.  Primary business is the festival business.  However, every year their catering business gets bigger and they use their competition equipment to help with their catering jobs.  The cater corporate events as well as backyard events.
Their specialty "hands down is ribs".
They have a sweet desert as well. They call it the Peach Bread Pudding.  The recipe is about 125 years old and it came from a little old lady in Mississippi.  They serve it at festivals as well so you can try it in Reno.
They cook with Wood Pellets.  They cook vertically not horizontally.  They start off with wood pellets and finish it off with propane.  Right now they are using sugar maple pellets.  Their backyard unit just uses wood pellets and it has a whole differnt flavor.  Baby back ribs when cooked in that backyard cooker are just fabulous!
Q.  What is your favorite competition experience?
A.  When people experience the entire package…the food, the environment and who we are…we are a family run business and are run that way.  They include their guests as their family and that makes the experience better than just the food.
Q.  What awards have you won
A.  The first event that they rolled out the Sweet Kristy's sauce, they won first prize (in Columbus, OH).  That was a good win.  Also they won a couple of first place ribs as well.  They have won People's Choice and those are always great to win.
Q.  Which award are you most proud of and Why?
A.  Last year they won a People's Choice award and Critic's Choice award in Lincoln Nebraska.  That was really cool because they are judged by community members.  Sometimes they present the awards early and if you win that makes your weekend very busy because people are curious about what makes your ribs win first place.  It is good every place we win 🙂
Q.  Where would you like to take your BBQ Business?
A.  I think we would like to have our kids enjoy what they do in life and want to include BBQ.  I would love to see the kids able to do something with BBQ at the next level.  Being on the road is a lot of fun, but it is a lot of work.  Traveling and competing has been awesome as a family and it would be great if the kids would take that over.
Q.  What is your favorite place to compete and why?
A.  Reno is a lot of fun because we have 24 teams there that are competing and lots of them you only see in Reno.  You get to see lots of different kinds of BBQ from each of the competitors.  Reno is definitely one of Kristy's favorites.
The world of competitive BBQ is one big family.  All of the competitors enjoy each other.  People are talking with each other about how their families are and how things are going.  They support each other and help each other.
Q.  Best BBQ Memory
A.  In Reno, a gentleman walked by their booth and saw their backyard cooker, and said, "Hey, I have one of those".  He worked for a Fire Department and it was given to them for saving a life.  That was amazing because there were only about 40 of them made in the world.  The cooker had been in storage for several years because no one knows how to run it.
John made the guy an offer to buy the cooker and the guy said yeah, it makes more sense for us to have the money than to have it sit in storage.  They were able to purchase the cooker and they use it as a display piece and it has their Firehouse emblem mounted on it.  It stays at home and it is a piece of art for their family.
Q.  What is the key to being successful in Competition
A.  First rule of thumb is patience.  You cannot cook BBQ fast.  There is a process that you have to be very patient with picking the right cut of meat, seasoning it correctly, cooking it for the right length of time, etc.  You have to be very careful because in competition, you have a 15 minute window that you can turn in your entry.  It is all about timing.  If you don't turn it in, you don't qualify.
Q  What advice would you give to a beginning competitor
A.  For a new person, some people are scared to try things.  Some people come up to them and say that they have a recipe that they think is pretty good and what do they think?  It really doesn't matter what anyone else thinks other than the competitor.  Anyone can sign up for a BBQ Competition in their area and go for it.  It is so much fun.  People help each other and you truly become family.
Q.  What is a secret to your success?
A.  The difference between Just North of Memphis and other competitors is that they use a dry rub, but their BBQ sauce is a dipping sauce.  Slathering BBQ sauce all over the ribs are to cover up the errors you make in cooking.  You taste the meat and the flavor of their seasonings and serve their sauce on the side.  They recommend that you try the ribs dry first and then use the BBQ sauce as a dipping sauce after you taste it dry.