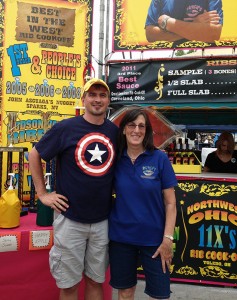 I had a chance to meet with Lynne Lupinetti from Butch's Smack Your Lips BBQ at the Best of the West Nugget Ribs Cook-off in Reno Nevada.
She was kind enough to spend several minutes with me to tell me about the history of Butch's and a little about what sets them apart from the other Rib vendors at the Nugget Cook-off.
Butch and Lynne Lupinetti owned a BBQ restaurant from 1970-1997 called Butch's Blues and BBQ in New Jersey.  In 1982 Butch and Lynne stumbled on a Rib Cookoff and attended all day.  They asked a ton of questions and got a bunch of information and at the end of the cook-off, they had purchased a smoker and began competing in the rest is history!
Butch's Smack Your Lips BBQ has been nationally recognized, winning over 400 awards including a Grand Champion win for the State of New Jersey – a Kansas City BBQ Society sanctioned event, the Jack Daniels Invitational BBQ and The Best In The West Cook-Off in Sparks, Nevada, the super bowl of barbecue competition events, just to name a few. During those events, his sauce has won 1st place in contests such as the Great America Rib Cook-Off contest held in Cleveland, Ohio. Other 1st place awards for Best Sauce include Naperville, IL, Minneapolis, MN, Cedar Rapids, IA, Indianapolis, IN, Columbus, OH, Toledo, OH, Dayton, OH and Ocean City, NJ.
Butch had the opportunity to compete in the Food Network pilot episode of Throwdown! with Bobby Flay in 2006 and a rematch in 2008.
Butch's Smack Your Lips BBQ has taken those award winning sauces and has created a selection of BBQ rubs and sauces that are available for purchase both at their booth in various Cook-offs each season (including the Best of the West Nugget Rib Cook-off) as well as ~15 other events each summer and their website (http://www.smackyourlipsbbq.com)
Unfortunately, Butch passed away in 2010 (our condolences to Lynne and his daughter Alyson).  However, Lynne and Alyson are carrying on the amazing tradition that Butch's Smack Your Lips BBQ began several decades ago.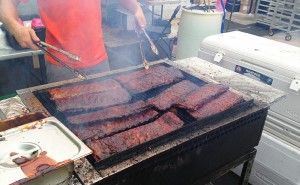 I spoke with Lynne and asked her what made Butch's special and set them apart from the other Rib Cookers at the Cook-off.  She reported that it was their preparation and cook process that really sets them apart.
To begin with, Lynne mentioned that they don't pull the membrane from the ribs – instead, their cooking process melts that membrane right off.  They rub their ribs with their Magic Dust rub the night before to let that concoction of spices to permeate the meat.
The next morning, they slap the ribs in the smoker and let them cook for 4-5 hours at ~250 degrees.  As they come out of the smoker, they put them on the grill and mop them with a bit of their mild sauce while they grill them for several minutes.  The grilling provides a bit of a crust to the ribs which complements the rest of the ribs which are fall off the bone tender.  They provide the ribs to their customers and give them the choice of sauces to choose from.
Their mild sauce is their best seller with the Happy Apple sauce coming in as their second best seller.  They also have the Super Pyro and pyro sauces (both very hot – with a great flavor at the outset and then the heat sneaks up on you and keeps on coming strong), their Spicy Sweet Sauce.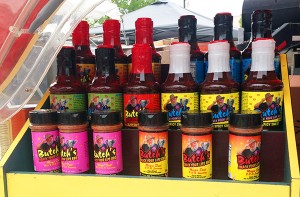 I had a chance to taste their sampler pack and try all of their sauces.  The ribs were amazing!  Meaty, great crust, tender and juicy, and that is before the sauce is applied.
My favorite sauce was the Mild sauce.  It had a great tang to it and perfectly complemented the ribs with the Magic dust rub.  The Happy Apple sauce was unexpectedly fun and the pyro sauce had a really good flavor and then the heat kicked in and kept getting hot over time!  It was great!
We also had the chance to try their Mac and Cheese which were awesome!  My daughter (a Mac and Cheese lover) almost didn't give me a chance to taste them because she gobbled them up so fast!
I highly recommend Butch's Smack Your Lips BBQ!  The food is amazing and Lynne was great to talk with.  If you are at the Best of the West Nugget Rib Cook-off this year, please make a special effort to find Butch's BBQ and purchase a full rack of ribs – you will be glad you did!