I had a chance to meet with Bill Wall from Bone Daddy's BBQ in advance of the 2014 Best in the West Nugget Rib Cookoff and asked him some questions to get to know him better.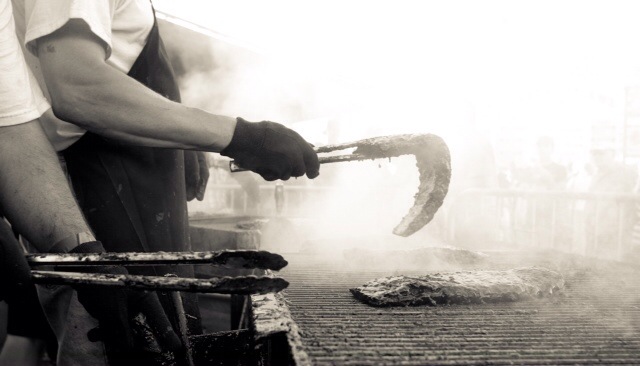 2014 Best in the West Nugget Rib Cookoff Competitor
Website: http://www.bonedaddysbarbeque.com/
Location: Midland, MI
Awards:
Best beef in the Country – sponsored by the Beef Council
Best pulled pork in the Country by the Iowa pork producers
Hundreds of trophies but some that he is most proud of:

Won first place 3 times at the Best in the West Nugget Rib Festival – "whenever you can get on the stage in Reno it is a good thing"
Best ribs in the Cleveland Nationals – only one to own best beef, best pork and best ribs in the same year (just after he went out on his own – pretty proud of those wins)
A barbecuing man since his youth, Bill has been in the BBQ business for over 35 years. His dad owned Billy Bone's BBQ and Bill learned the ropes working under his father for 20 years. 15 years ago, Bill went his own way and created Bone Daddy's BBQ–a restaurant and catering hotspot in Midland, Michigan. Starting with only the bare bones, he developed and perfected his own recipes and sauces. From its humble beginnings, Bone Daddy's has grown into a town favorite, with lines of people waiting for the restaurant to open. His catering business took off as well, and he often has 2-3 catering jobs each day when the weather is good.
Bill has created a series of rubs, hot sauces and a BBQ sauce that are unique, and crowd pleasing if his success is an indicator. Focusing his talents on his BBQ, he controls the flavor of the BBQ with the wood his cooks it with, along with the dry rubs and spices he uses. Depending on the flavor of the day, he uses a selection of hardwood sugar maple, silver maple, apple, wild Michigan cherry, oak, and hickory wood to give his meat a unique flavor. This massive selection usually sits in an enormous pile in driveway, organized into rows that he cuts as needed.
Bill strongly believes that the right wood is a strong, baseline fundamental of good BBQ.  He said that he mixes his woods like a fine wine.  He loves to mix and sample different wood combinations to achieve the right color, aroma, and flavors in his meats, for example, if he doing beef or tri-tip, he likes to use a little heavier wood to provide a bolder flavor (i.e. cherry and hickory).  If he is doing a pork loin, he likes to use cherry and apple wood, for holiday hams, he uses sugar maple to provide the color, flavor and aroma that he wants for the meat.
Q.  What is your favorite thing to cook
A. Bill said that lately he has been having fun cooking marinated beef tri-tip using a recipe that he created himself.  He mixes his rubs with various cabernets and merlots to make a paste that he slathers over the beef tri-tips and let's them marinate for 24 hours in a tub of red wine.  Then he smokes the tri-tip for about an hour – just enough to give it a hint of smoke and then he grills it for 7-10 minutes to caramelize the outside and slices it rare.  His customers are pounding down the doors of the restaurant for this entree.  It has a great flavor with a hint of red pepper and red wine and is a crazy delicious piece of meat!

Q. How often do you compete?
A.  Not as often as he used to.  In the beginning, Bill competed about 9 months out of the year.  After he opened his restaurant, Bill cut back to 2-3 competitions a year and focuses on the competitions where he has built a clientele and where he is able to be profitable with the expenses of traveling across the country with his equipment and team to compete.  He said that he has about 5,000 friends in Reno where he has competed for 10 years and enjoys the whole experience in Reno.
He also competes in the Ribfest in St Petersburg Florida and the Naperville Ribfest in Chicago.
Q.  How much meat do you go through in a competition?
A.  It wouldn't be uncommon do to 2-3 tons of meat at a show.  Some crowds like beef, some like pork, others like ribs.  It depends on the show.  The people in Nevada like ribs and we go through a ton of ribs at that event.
Q.  Do you have a favorite BBQ memory?
A.  You don't have enough time for that.  I have thousands of stories that I could tell.  But here is a fun one.
I was in Reno Nevada cooking ribs and this big black guy that looked like a FBI agent asked me if I was Billy Junior.  I replied that I had been called that name before.  A few minutes later another big black guy came and asked if I was Billy Junior.  I said yes I was Bill Wall.  The security guys said that there was someone who wanted to meet me.  I put down my tongs and my gloves and went with the security guys out back and I got to meet a guy who said, "you don't know me, but I know you.  I met you when you were about 11 or 12 when you were traveling around the country with your father when he was giving seminars on how to market and produce and package BBQ items.  I remember you because you used to run your dad's slide projector.  I wanted to introduce myself, my name is David Raymond, the owner of Sweet Baby Rays."  David went on to say, "I wanted to tell you that this is the best BBQ that I have ever eaten in the whole world!"
Bill thought that was pretty high praise coming from David and he thought it was pretty funny that David remembered him from running his Dad's slide projector as he was on tour.
Q. Where would you like to take your BBQ company?
A. I would really like to take my sauces and rubs to the next level.  I have good rubs and sauces that I would like to make more successful.  He is just starting to approach stores in larger markets.  He has sold a lot of sauces and rubs at various competitions and he would like to get those products more broadly available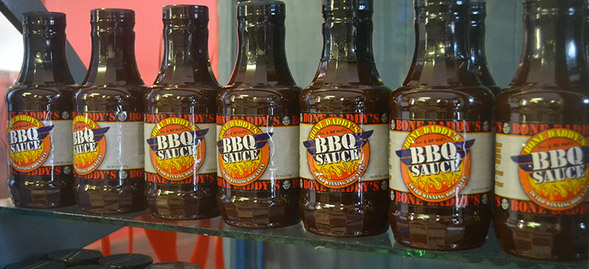 Q.  What advice would you give to an aspiring BBQ competitor
A.  If you are an aspiring Backyard BBQ'r, cook your brisket the day before so you can enjoy your beer with your friends the day of the BBQ…No really – take your time.  It is all about time and smoke.  It is just about doing a consistent product.  Use the right spices, the right woods and use high quality meats.
I hate to go back to the old adage, but you want to cook Low and slow – it is about using quality ingredients and taking your time – make it a case of beer instead of a 6-pack and sit back and enjoy the process.
Q. What makes your BBQ products unique
A. I started cooking when I was 11-12 and have 35-40 years of experience and I cook every day.  Practice makes perfect.  I am getting very comfortable cooking anything with any type of wood.  I am just starting to really understand meats and woods and I have been cooking for a long time!  The more I cook, the more I learn.  I learn more every day!
A BBQ'n man at heart, Bill took lessons from his youth and applied them to build a BBQ dynasty that would make even the most BBQ savvy father proud.