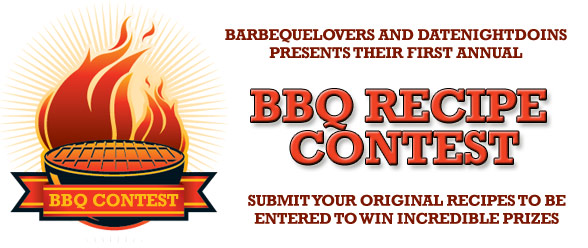 Barbecue. It is the fuel that drives family get togethers and the foundation of a successful tailgate party.
The folks at Barbequelovers.com have teamed up with Ken Fisher at Datenightdoins.com to launch our first annual BBQ Recipe Contest.
We love to cook and eat BBQ. But more importantly, we love the time that we spend and the memories that we create with our families enjoying great food hot off the grill!
To support this, Barbequelovers.com and Datenightdoins.com are co-hosting our First Annual BBQ Recipe Contest. We also have a concurrently running Women of the Grill Contest to encourage Women to show off their BBQ skills.
Entries of both contests will be eligible to win a great selection of BBQ prizes!
To enter, submit your original recipe on the BBQ Recipe Contest contest submission form. On that form, you will want to include a short bio of yourself to tell us about your grilling styles, BBQ recipes, Grilling tips and how to's.
There is no limit to the number of recipes that can be submitted as long as the recipe is cooked on a grill/BBQ.
The 2011 contest ends November 30, 2011 but don't wait, submit your entry today.
Recipes will be published on datenightdoins.com and barbequelovers.com.
Scoring will take place as follows:
20 points for including pictures of the completed recipe
1 point for each time your family and friends "Like" your recipe on facebook by clicking on the "Facebook Like Button" included on each contest entry submission. Be sure to encourage everyone to visit your recipe and "Like"
Points will be tallied by BBQ enthusiast David Crowther (owner of http://barbequelovers.com).
Prizes:
We have a great selection of prizes available for contest applicants from some very generous sponsors, including:
Royall Grills
Western Beef and Seafood
Country Bob's
Grandville Gourmet BBQ Jams
Pigtails and Twilights
SOG Knifes
Barbequewood
Frogmat
Please support our sponsors by purchasing their products everywhere those products are sold.